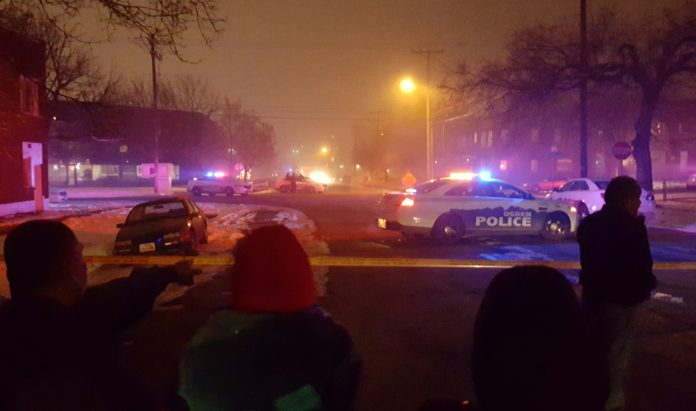 OGDEN, Utah, Dec. 30, 2016 (Gephardt Daily) — A shooting late Friday afternoon in central Ogden brought out officers from Ogden Police Department, the gang unit and SWAT.
One man died at the scene, a police spokesman told reporters.
OPD Lt. Brian Eynon said a suspect was barricaded in one of the buildings and SWAT was called to deal with the situation. That suspect has since been taken into custody.
Police were asking that everyone stay away until the area is completely cleared.
Eynon said the shooting occurred at about 4:45 p.m. in the area of 27th Street and Adams Avenue.
Police completely blocked off Adams between 27th and 28th streets, and a lockdown was in place, with no one allowed into the area or out of the buildings on that block.
By 6 p.m., several area residents were standing out in the cold night air, either watching the action from the safety of 27th Street or asking the police officer monitoring that intersection when they'd be able to get into their homes.
A young man named Devin said he lives and works very near the scene, but he didn't hear any gunshots. He said that particular neighborhood tends to be fairly quiet most of the time.
"There was a shooting over there a few months back," he said, pointing toward a corner parking lot on 27th Street. "But I don't think anybody actually was shot. And probably drug deals. But this is very surprising."