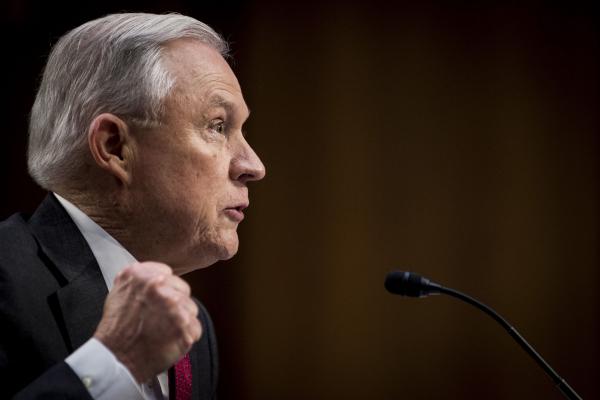 Aug. 8 (UPI) — In response to lawsuit filed by Chicago over its "sanctuary city" status, U.S. Attorney General Jeff Sessions said President Donald Trump's administration will not give federal money to "city governments that proudly violate the rule of law."
Chicago Mayor Rahm Emanuel on Monday filed the lawsuit — after the Justice Department said it would withhold funds from the Byrne Criminal Justice Innovation public grant program unless "sanctuary cities" assist the Department of Homeland Security in deporting undocumented immigrants.
Sessions said it is "astounding" that Emanuel's administration would file a lawsuit considering the city's "unprecedented violent crime surge."
"No amount of federal taxpayer dollars will help a city that refuses to help its own residents. This administration is committed to the rule of law and to enforcing the laws established by Congress," Sessions wrote in a statement. "To a degree perhaps unsurpassed by any other jurisdiction, the political leadership of Chicago has chosen deliberately and intentionally to adopt a policy that obstructs this country's lawful immigration system."
More than a dozen cities across the country have enacted legislation or drafted policies instructing local police not to question people about their immigration status, and not to notify Immigration and Customs Enforcement if someone is found to be in the country illegally.
In its lawsuit, Chicago said it "brings this action to avoid that impending harm and to prevent the [Justice] Department from imposing unlawful and counterproductive conditions" on the grant program that would "override local judgments about how best to enforce the law and protect the community."
There are hundreds of "sanctuary cities" in the United States, including New York, Los Angeles and San Francisco.
Chicago said the Justice Department's immigration-related conditions on the grant program is unlawful.
"Chicago's Welcoming City ordinance promotes public safety by ensuring that no city resident, regardless of their status, is afraid to cooperate with law enforcement, report criminal activity to the police, serve as a witness in court or seek help as a victim of crime," Emanuel said in a statement on Sunday.
Sessions said Emanuel's concerns are unfounded.
"The mayor complains that the federal government's focus on enforcing the law would require a 'reordering of law enforcement practice in Chicago.' But that's just what Chicago needs: a recommitment to the rule of law and to policies that rollback the culture of lawlessness that has beset the city," Sessions wrote. "This administration will not simply give away grant dollars to city governments that proudly violate the rule of law and protect criminal aliens at the expense of public safety. So it's this simple: Comply with the law or forego taxpayer dollars."
Chicago lawsuit vs. U.S. Department of Justice — "sanctuary city" by United Press Internationalon Scribd