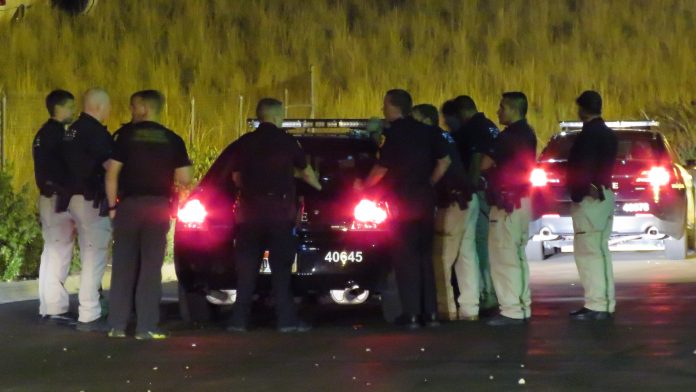 SALT LAKE CITY, Utah, Sept. 29, 2017 (Gephardt Daily) — Two teenagers were taken into custody overnight after police say one of them fired on kids in a Salt Lake City park, then fled from police.
The two are known gang members, police say, and a gun found with them may link the pair to two armed robberies, conducted 10 minutes apart, a day earlier.
The park shooting, in which no one was injured, happened a little after 10 p.m. Thursday, said Lt. Dave Cracroft, Salt Lake City Police Department.
"We had a shooting report from about 5th North and Grant Street, and it turns out some kids were in a park there, and the suspects drove by and asked them if they were banging, which means that they were in a gang," Cracroft said.
"Some words were exchanged, then our suspects fired several rounds at them, and then drove away."
A little later, a gang detective spotted the car near 900 South and 200 West, Cracroft said, and followed it until more officers could be called in to assist.
"They tried to stop them later, and a pursuit ensued," Cracroft said. "Officers chased them around the Redwood area for a little while, and ended up here, by Bangerter and 201."
The car crashed when the driver tried to go up a hill, the officer said. The passenger stayed in the car. The two males were ages 17 and 18.
"The driver bailed, and officers were able to catch up on Bangerter on foot and take him into custody," Cracroft said. No one was hurt, he added.
A handgun with some pink coloring was found, and it matched a gun described in two 7-Eleven robberies that happened at 2:01 and 2:11 a.m. Thursday.
"We're thinking these guys could be related to that," Cracroft said. "That will be part of the investigation."
Responding to a comment that the teens had been busy, Cracroft said: "Yeah, they're gang members and they're trying to prove something, which I don't know what it is."