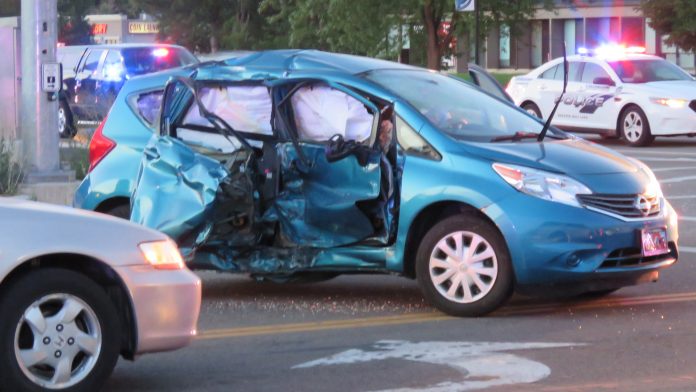 MIDVALE, Utah, July 23, 2017 (Gephardt Daily) — A man is dead after a motorcycle and car collided Sunday night in Midvale.
It was the 29-year-old motorcyclist who passed away, according to officers on the scene.
The accident occurred at 7500 S. State St. According to Unified Police Detective Ken Hansen, at 8:37 p.m. the motorcycle was traveling southbound on State Street, and a green car on 7500 made a left turn, going north to west.
The motorcycle collided with the center of the vehicle, and the motorcyclist died of his injuries.
Hansen said the people in the car probably received minor injuries when the car's air bags deployed, but they were checked at the scene by fire department personnel and were deemed to be ok.
Another car was hit as a result of the crash, Hansen said, but it only had minor damage.
The crash closed south- and eastbound traffic. Northbound traffic was still flowing, but UDOT was asking everyone to use an alternate route and avoid the area. A crash analysis reconstruction team was on scene, and police expected the road to be closed until at least midnight.
Car vs. Motorcycle, Midvale