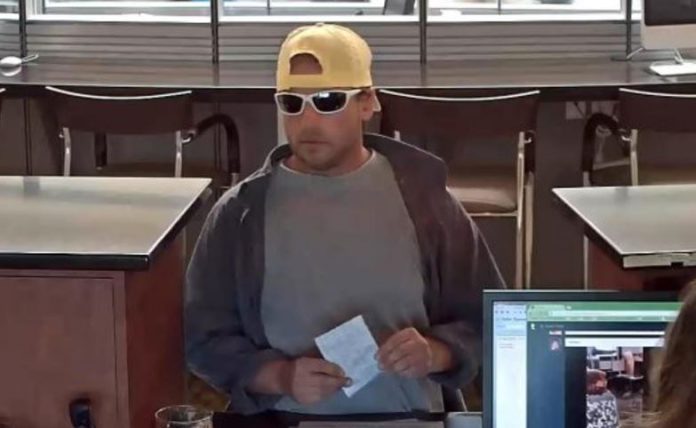 SANDY, Utah, June 23, 2017 (Gephardt Daily) — Sandy Police officers are asking for the public's help finding a bank robber who targeted a Utah First Credit Union Saturday afternoon.
The man entered the credit union, at 9213 S. Quarry Bend Drive, at approximately 3 p.m., demanded money from a teller and left with an undisclosed amount of cash, Sandy Police Sgt. Jason Nielsen said in a news release Friday morning.
No weapons were seen or threatened, Nielsen added.
The suspect approached from the area of the Lowe's parking lot and left on foot in the same direction. It is unknown where he went from there or if he got into a vehicle.
The suspect is described as Caucasian, approximately 5 feet 9 inches tall with a medium build. He was wearing a yellow baseball hat turned backwards, white sunglasses, a gray button-up shirt with rolled-up sleeves over a gray T-shirt, gray pants and white tennis shoes.
If anyone has any information on the suspects they can contact Sandy Police Department at 801-799-3000, quoting robbery case SY 2017-29663.