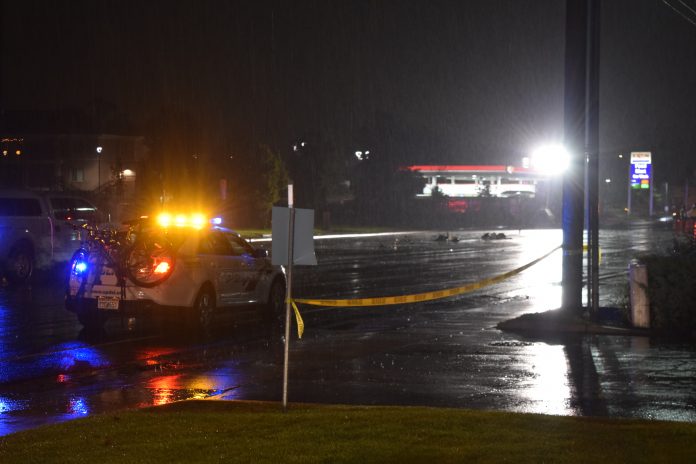 TAYLORSVILLE, Utah, Sept. 25, 2017 (Gephardt Daily) — A 60-year-old man who was walking across Redwood Road late Saturday night and was hit by a vehicle that then drove away has been identified.
The deceased is Douglas Chavis, from Taylorsville, the Unified Police Department said Sunday afternoon.
The vehicle that hit him pulled over momentarily, then drove off, leaving Chavis to die at the scene.
Lt. Manfred Lassig, Unified Police Department watch commander, told Gephardt Daily the accident happened at about 10:24 p.m., when Chavis was crossing from the east side of Redwood Road to the west side, mid-block, between 4800 and 4700 South.
"He was pushing a walker-type unit that has a seat on it," Lassig said. "As he came across, a northbound vehicle on Redwood Road hit him."
The vehicle pulled over and stopped "for a little bit," and then the driver left the scene northbound and made a left-hand turn to go west on 4700 South.
Witnesses described the car as a 2001 white Chevrolet Malibu; the driver is described as a young female with dark hair.
Lassig said the street is poorly lighted and it was raining, so "visibility would have been very poor."
It isn't known why the driver stopped and then drove away, but any charges would include leaving the scene of an accident, and being a fatal accident would increase the severity of the charge, Lassig said.
"It all depends on what the investigators come up with — how it happened, why the driver left."
Redwood Road was to be closed for at least two hours while investigators processed the scene.
This case is being investigated by UPD detectives assigned to the multi-jurisdictional Crash Analysis Reconstruction (CAR) team.  Detectives are asking for anyone with information to call Unified Police at 801-743-7000.
Fatal auto-ped, Taylorsville