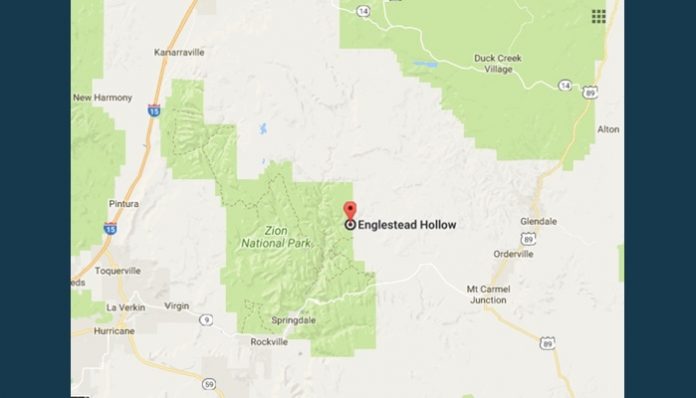 KANE COUNTY, Utah, Sept. 4, 2017 (Gephardt Daily) — A rappelling accident Sunday morning took the life of a 38-year-old man despite a concerted effort by several agencies to rescue him.
According to a news release from the Kane County Sheriff's Office, dispatchers received a call at about 11 a.m. reporting that someone had fallen while rappelling in Englestead Hollow.
A man from New Hampshire had been hiking with four of his siblings. They planned to hike down Englestead Hollow and then through the Narrows into Zion National Park.
Englestead has a series of rappels, and the family was on the first rappel, which is about 300 feet long, when the man fell the last 80 feet to the canyon below.
At first, it was thought that he had leg, hip and back injuries, the release says. A doctor from another group of hikers provided initial care.
A medical helicopter from Classic Aviation in Kanab was dispatched, but couldn't land at the site because of trees, so it landed in an area nearby. A call also was made to the Utah Department of Public Service helicopter, which was in Garfield County and was able to respond quickly.
The area is extremely remote, and rescue efforts require a great deal of technical expertise, the release states.
The DPS helicopter lowered a crew member with a hoist, and that crew member cleared some trees so the helicopter could land. The DPS helicopter then flew to the incident command post, picked up a nurse from the Classic Aviation crew, and flew back to the cliff from which the family had rappelled.
The DPS helicopter then shuttled in two rope team members from KCSO Search and Rescue and additional medical personnel from the Classic helicopter. They all rappelled down to the injured man. Zion National Park Search and Rescue also was contacted and brought in their rope rescue team.
The man died of his injuries despite the efforts of the rescue crews.
The Zion crew set up a system to raise the remaining family members, bystanders and search and rescue personnel out of the canyon. The deceased man was then brought out of the canyon and taken to a mortuary for transport to the Utah State Medical Examiner's Office in Salt Lake City. The incident is still under investigation.
The sheriff's office stated that this is the second incident of this type since Aug. 25, when rescue crews responded to a nearby canyon, Birch Hollow, for a person who had fallen about 100 feet while rappelling. That individual survived and was flown to Dixie Regional Medical Center after spending the night in the canyon with the rescue crew.