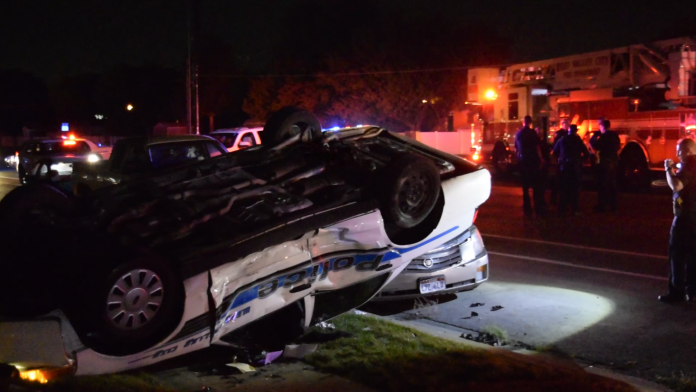 WEST VALLEY CITY, Utah, Sept. 3, 2017 (Gephardt Daily) — A police officer was rushed to the hospital Saturday night after his vehicle crashed and rolled while pursuing a suspected car thief.
West Valley City Police Lt. Steve Katz told Gephardt Daily the officer saw a suspicious vehicle in the area of 2700 West and 3100 South and determined that the license plate on the vehicle was stolen.
The suspicious vehicle fled before the officer could initiate a stop, Katz said, and the officer, whose name has not been released, was trying to catch up to it when he was involved in a crash near 2750 South and 2700 West. His police car rolled, and the injured officer was transported to the hospital.
Asked about the officer's condition, Katz would only say, "We're still verifying (his condition) — we hope that he's going to be OK."
The vehicle that fled was later found abandoned in a neighborhood west of the crash site. Police set up a containment area and deployed a K-9, but were unsuccessful in locating the suspect.
"The suspect vehicle has been recovered and will be processed forensically in hope of developing further information," Katz said.
The vehicles involved in the crash were parked along the road and were unoccupied. Katz said an auto body shop is nearby, and some of the vehicles were in various states of repair, while others were simply parked at the roadside.
Because a West Valley City officer was involved in this serious crash, the department requested the Unified Police Department to respond, and UPD investigators were on scene.
The crash occurred at about 11 p.m., and Katz said the area would be closed to traffic for several hours.
West Valley officer injured in rollover