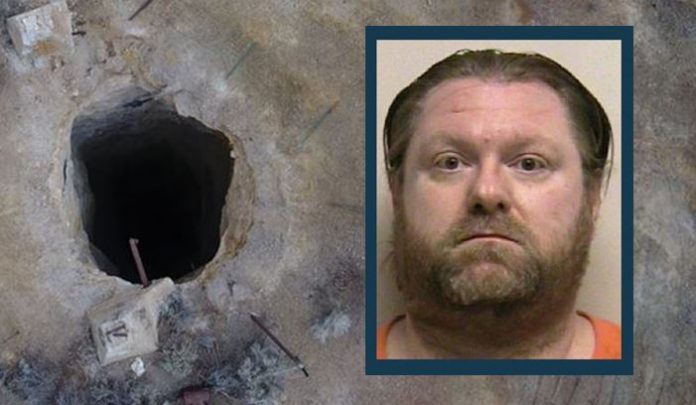 UTAH COUNTY, Utah, July 31, 2019 (Gephardt Daily) — Utah County Attorney David O. Leavitt announced Wednesday that he will approve the death penalty as an sentencing option if accused killer Jerrod Baum is convicted of the murder of teens Brelynne "Breezy" Otteson and her boyfriend, Riley Powell, of Eureka.
Otteson was 17 and Powell was 18 when they disappeared in late December of 2017. Their bodies were discovered in an Utah County abandoned mine, 250 feet below the surface, in March of 2018.
Baum's girlfriend, Morgan Henderson, led police to the mine location after she was arrested during a traffic stop. Baum was taken into custody shortly afterward.
"My decision has been to allow the death penalty to be considered in this case," Leavitt said Wednesday morning at a news conference.
"That is a very different thing, I will point out, than seeking death penalty. It is not my role to seek it. It is my role to present the facts and give people the option. If a jury of his peers convicts him, they will decided if his previous life and the consequences of this crime warrant" capital punishment, Leavitt said.
"Do I believe we will get a conviction," he added. "It's the role of the jury to decide guilt or innocence."
Those comments followed a lengthy talk about the history of jury trials and the increase of plea bargaining in America, and Leavitt's mission to give the power to convict and sentence back to people on juries.
The case
Morgan Lewis Henderson, Baum's former girlfriend, told police in 2018 that she had witnessed the kidnappings and murders.
Henderson — who also goes by the name Morgan Lewis — said Baum murdered the two because she had invited Powell to the residence she and Baum shared at the time, and Baum had forbidden her from having visitors.
Powell brought along Otteson, his girlfriend, who had not previously met Henderson.
Henderson testified in March that on Dec. 30, 2017, Baum had bound Powell and Otteson and driven them to the Tintic Standard No. 2 mine. Once there, Henderson said Baum made her watch as he stabbed first Powell, then Otteson, then pushed their bodies into the mine.
In April of this year, Judge Derek Pullan of the 4th District Court ruled there is sufficient evidence to prosecute Jerrod William Baum, 42, for the aggravated murders of Powell and Otteson.
"Baum believed that a police investigation and criminal proceeding would follow and that (Otteson) could testify," the ruling says. "It is reasonable to infer that Baum killed (Otteson) to prevent her from doing this."
The judge's ruling also noted that Baum acted in an "especially heinous, atrocious, cruel or exceptionally depraved manner" in the murder of Powell, who was stabbed 11 times. The Medical Examiner reported stab wounds to Powell's left leg, genitals, ribs, stomach, chest, face, head and neck.
After Powell's murder, Otteson begged for her life, the ruling noted.
"Baum then crouched behind Breezy and took her in his arms," the report says. "Breezy said, 'I promise I won't tell anyone.' Baum responded, 'It's OK Darlin', shhh.'"
After he slashed Otteson's throat, she slumped down and did not move, the statement says, adding "With a big grin on his face, Baum said, 'I've never killed an innocent before.'"
The bodies were recovered from the mine, near Mammoth, Utah, on March 27, 2018.
This June, Baum pleaded not guilty to the following charges:
Two counts of aggravated murder, a first-degree felony
Two counts of aggravated kidnapping, a first-degree felony
Obstruction of justice, a second-degree felony
Two counts of abuse or desecration of a dead human body, a third-degree felony
Possession of a dangerous weapon by a restricted person, a third-degree felony
Baum has a long criminal history dating back to 1992, when he was charged with attempted murder.