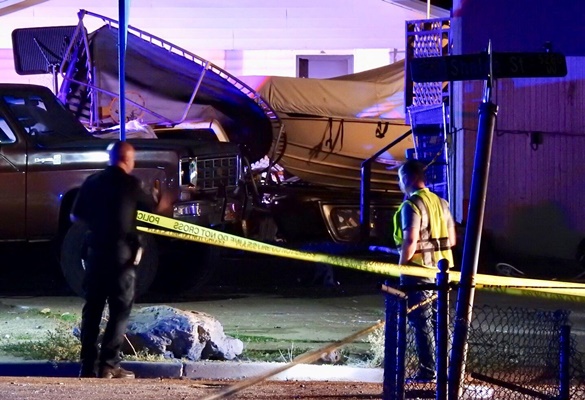 For an updated story, click here.
KEARNS, Utah, Aug. 31, 2019 (Gephardt Daily) — Police officers and fire department crews were dispatched to a traffic accident with injuries early Saturday morning and arrived to find two people in critical condition and a third who died at the scene.
Lt. Paul Barker, with the Unified Police Department, said the crash occurred at about 1 a.m. at 5200 South and 5300 West.
Unified Fire Authority crews transported two women, both in their 20s, to Intermountain Medical Center in critical, but stable condition. Barker said one woman had been in the front passenger seat of the badly damaged car and the other had been in the back seat.
Officers were en route to the hospital to attempt to interview the victims.
The male driver, who was killed in the crash, was still inside the vehicle as police waited for investigators to arrive.
Barker said no information is available as yet regarding such factors as speed or possible impairment, and he added that it would take a few hours for investigators to determine the cause of the accident.
He did say, however, that it appears the vehicle was eastbound on 5200 South and veered to the right, where it hit a fence, then went across the street and crashed into parked cars there.
"There is a significant crime scene here," Barker said as he viewed the destruction. "We're going to look in all directions."
He also pointed out that fatal accidents generally occur on busy streets, where the speeds are higher. A fatal crash in a neighborhood, where the speed is 25 miles an hour, is rare.
The Crash Analysis Reconstruction Team is assisting with the investigation, and officials will be checking to see if any neighbors have security video that may show the accident or what led up to it.
"We received multiple calls reporting the accident," Barker said, "but most people heard the crash. We have no eye-witnesses so far."