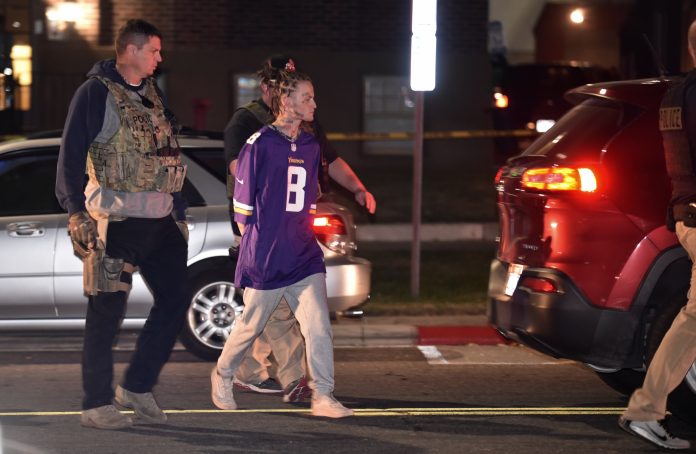 For an updated story, click here.
SALT LAKE CITY, Utah, Oct. 18, 2018 (Gephardt Daily) — A man has died as the result of an officer-involved shooting in downtown Salt Lake City.
The shooting took place in an alleyway in the area of 455 E. 300 South at approximately 10:30 p.m. Thursday, Unified Police Department Sgt. Melody Gray told Gephardt Daily.
Gray said the Metro Gang Unit was in the process of trying to apprehend a known felon and parolee who was wanted on several felony charges. Officers located his vehicle, were following him and ended up in the location of the shooting.
"The suspects drove into that alley, our officers followed, at that time at one point our officers were out of the car, some kind of confrontation occurred and shots were fired by one Unified Police Department officer and one Saratoga Springs officer," Gray said. "The male that was hit is an adult male and he died while en route to the hospital."
Gray said there were three other people that were on scene as well: a male who ran was taken into custody on unrelated warrants and two additional people, who are being interviewed as witnesses. There were two civilian vehicles on scene. Police do not know who was in which vehicle.
She said at this time officials are not releasing information about what led up to the shooting. She added the shooting took place outside the building in the parking lot but it's not clear if the involved parties were inside or outside the vehicles.
It is unknown at this time whether shots were fired by the suspect, or how many shots were fired by the officers.
Gray said one officer hurt his knee when he was hit by a vehicle, and he is at the hospital being seen for that injury.
The West Valley City Police Department is taking the lead on the investigation, as per protocol, Gray said. She said the WVCPD team is on scene and the investigation has just begun as of 1 a.m. She said investigators would be on scene for four to six hours. They will also be canvassing the area to see if residents might have any surveillance video or have witnessed what occurred.
Andrew Burton, police chief for Saratoga Springs/Bluffdale, who was also on scene after the incident, said his officer is a detective assigned to the Bluffdale precinct and is assigned part time to the Metro Gang Unit. The officer had been out Thursday night working on another case that is related to a situation in Bluffdale when this incident arose and became a priority. Burton said his officer had been with the Gang Unit for about 5-and-a-half years.
Gray said the identity of the deceased is likely to be released Friday morning.
SLC Officer-Involved Shooting