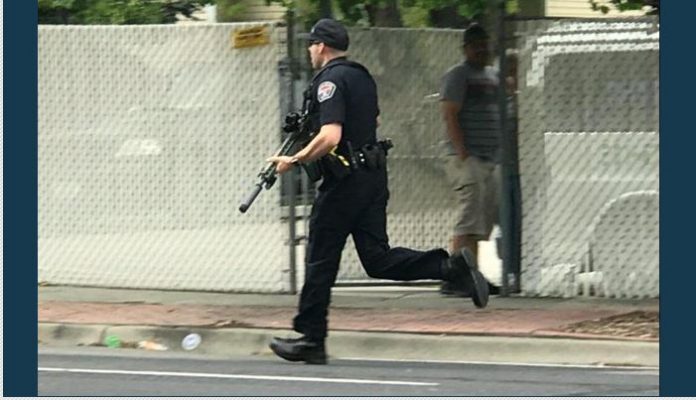 To view a bystander's video, click here. To see an updated story, click here.
WEST JORDAN, Utah, May 28, 2018 (Gephardt Daily) — An armed robbery suspect is dead after an officer-involved shooting in West Jordan on Monday afternoon.
According to West Jordan police spokesman Sgt. J.C. Holt, the incident began at about 2 p.m. when an officer confronted a suspect just minutes after he had robbed the 7-Eleven at 6200 Dixie Drive.
The West Jordan K-9 handler stopped the suspect, and the two men struggled in the middle of the road, Holt said.
During the struggle, the suspect managed to gain control of the officer's vehicle and sped west on 6200 South, striking two other vehicles along the way.
The suspect was then confronted by two other West Jordan officers who were responding to the armed robbery call.
Holt said the suspect pointed a handgun at the officers, who responded by opening fire.
The suspect was struck and killed.
A police K-9 in the backseat of the vehicle was uninjured, as were the officers who fired on the suspect.
The occupants of the two vehicles hit while the suspect fled were taken to the hospital with non-life-threatening injuries.
Witnesses tell Gephardt Daily they heard multiple gunshots as officers swarmed the area, with police from West Jordan, West Valley City and Unified Police responding to the scene.
The Unified Police Department, as an outside agency, will lead the investigation in accordance with protocol in cases dealing with officer-involved shootings.
Gephardt Daily has a crew on the scene and will have more information as it becomes available.
West Jodan Police Shooting