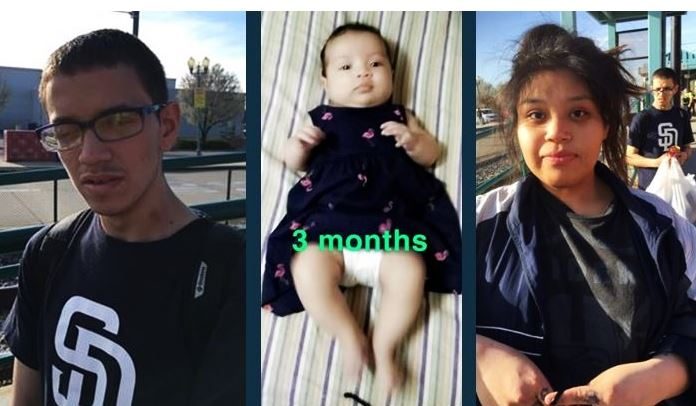 UPDATE: The Amber Alert is canceled. The child is safe. For an updated story, click here.
UTAH, Sept. 25, 2019 (Gephardt Daily) — An Amber Alert was issued just after 10 p.m. Wednesday for an infant missing from South Salt Lake.
The baby is Khaliaya Alvarez Caro. The suspects in her disappearance are her parents, Gabriel Brandon Caro, 19, and Jasmine Angelica Alvarez, 21, who do not have legal custody of the infant.
The baby's grandparents have custody of her due to the parents' drug use, history of domestic violence and homelessness, South Salt Lake Police spokesman Gary Keller said.
The incident started at about 8 p.m., he said.
"They came into the apartment through a basement window and went upstairs, grabbed the baby," Keller said. "Only the grandfather was home. There was an argument that took place. They left the apartment with the 3-month-old baby."
When the parents drove off with the baby, there were two other adults in the car, Keller said. The car, a gray four-door sedan, is believed to be a Toyota or Chevy Malibu, he said.
The parents were observed to be acting erratically and suspected to be on drugs earlier in the day, Keller added.
Read the original Amber Alert text below:
This is an Amber Alert notification of a child abduction. The South Salt Lake PD is asking for the public's help.
The first suspect is identified as Gabriel Brandon Caro. He is 5 feet 10- inches tall, weighing 160 pounds. He has brown hair. He was last seen wearing a gray T-shirt.
The second suspect is identified as Jasmine Angelica Alvarez. She is 5 feet 3 inches tall, weighing 183 pounds. She has brown hair and a tattoo finger nonspecific. She was last seen wearing a dark gray Utah Utes shirt, light denim jeans, dark Nikes.
The child abduction victim is identified by police as Khaliaya Alvarez Caro. She is an infant and was wearing Mickey Mouse T-shirt and diaper. She has black hair and brown eyes. She is 2 feet zero inches and weighs about 20 pounds.
The abduction happened at South Salt Lake. The suspect was driving a gray Toyota.
If you have any information, please call police at 801-840-4000 or simply dial 9-1-1…. Our next alert will be in 30 minutes.