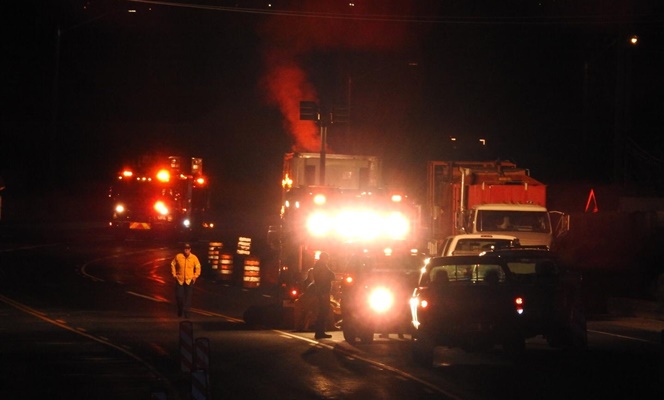 For an updated story, click here.
TAYLORSVILLE, Utah, Sept. 22, 2019 (Gephardt Daily) — If your semi is smoking and you don't know why, it's not a good idea to park it and hope it'll fix itself.
That's only part of the message Unified Fire Authority's public information officer is sending out late Saturday night.
The main message is that residents in the area of 4100 South and 1600 West need to shelter in place until hazmat crews figure out exactly what chemicals are creating the heat and smoke that's seeping through the seams of the semi's trailer.
"We've got a semitrailer that's got some chemicals — we're thinking they're mixed together," Keith Garner, public information officer for UFA, said at the scene.
"So the truck was parked here earlier this afternoon, about 2 o'clock. The drivers smelled some smoke, so they just parked it and walked away. Some construction workers who were working pretty close in the area tonight called it in just after 10 p.m.," Garner said.
When UFA and hazmat crews arrived, they were able to determine that they're dealing with some chemicals that are flammable, as well as cyanide.
That's when everyone within a one-block radius was ordered to shelter in place, and the streets were shut down along 4100 South in both directions from 1300 West all the way to Redwood Road.
"Right at this point, it's kind of dissipating as soon as it hits the air," Garner said, "so it's not a big deal yet, but it could be."
He said specialists in full hazmat suits are going in to try to identify more of the chemicals and determine what can be done to bring the situation under control.
"It's warming up a little bit inside, so we want to make sure not to introduce anything that's going to cause a further reaction."
Garner said the doors on the trailer have not been opened because officials want to keep everything as contained as possible.
"The health department is on scene and the (trucking) company's safety officer is on his way to get a better idea of exactly what the chemicals are," Garner said. "The drivers left it almost in the middle of a lane. I don't know what they were thinking."
Garner also emphasized the Utah Health Department's role in this situation.
"The Health Department is really strong on cleanup and everything else. I'm sure (the truckers) will be getting some hefty fines."
Everyone in the area is OK, Garner said, adding, "Just shelter in place until it's all taken care of. Luckily this time of night, we don't have a ton of people."