MIDVALE, Utah, Dec. 5, 2019 (Gephardt Daily) — It was a sleepless night for residents of a normally quiet Midvale neighborhood after fire destroyed an abandoned home early Thursday morning.
Crews were called to a residence at 7462 South 700 East at 1:45 a.m.
When first responders arrived they found the home engulfed in flames.
An estimated team of 25 firefighters from Sandy and the Unified Fire Authority took up defensive positions to keep the fire in check before finally bringing it under control about 30 minutes later.
Investigators have yet to determine how the fire started.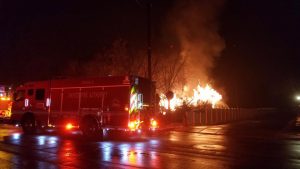 There were no reports of injuries in the early morning blaze.
Gephardt Daily will update the story as more information becomes available.