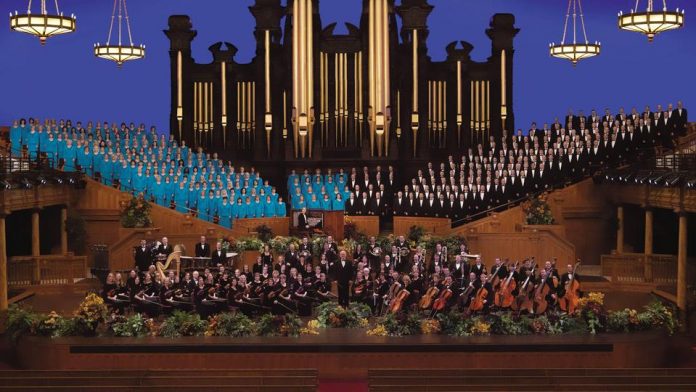 SALT LAKE CITY, Utah, Oct. 5, 2018 (Gephardt Daily) — The Mormon Tabernacle Choir has announced it will change its name after more than 150 years of existence.
The new, longer name — The Tabernacle Choir at Temple Square — removes the word Mormon.
"The Choir's announcement follows a statement issued by the Church in August 2018 encouraging use of the full name of the Church," says an explanation  on the choir's website. The statement referenced was made in a video by Russell M. Nelson, president of The Church of Jesus Christ of Latter-day Saints.
The message on the Choir website continues:
"The new name for the Choir preserves the heritage of the Choir's home in the Tabernacle and its location on Temple Square. Ever since 1867, the Tabernacle has been home to the Choir, which is known worldwide for its one-of-a-kind signature sound shaped in part by the venue from which it emanates.
"Choir members, 360 volunteers united by their shared love of music and their faith in God, serve as musical ambassadors for The Church of Jesus Christ of Latter-Day Saints."
Ron Jarrett, president of the Choir, gave the following statement in announcing the change:
"A new name for The Tabernacle Choir will represent a change after so many years. But we have always been a forward-looking people, and we are focused on what is not changing: the world-class musicianship, the inspiring arrangements and programming, and our weekly 'Music and the Spoken Word' broadcast continuing a tradition begun 90 years ago.
"The name may change, but everything that people know and love about the Choir will not only be the same but will get better and better."