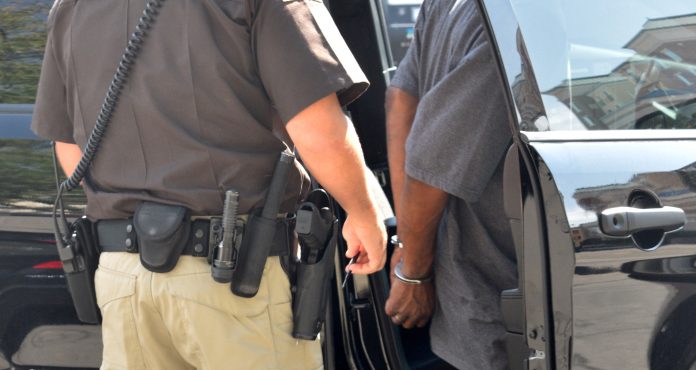 SALT LAKE CITY, Utah, Aug. 13, 2017 (Gephardt Daily) — A major police presence descended on the Rio Grande area of downtown Salt Lake City Monday morning to conduct a crackdown called Operation Rio Grande.
Although Lt. Gov. Spencer Cox said there were 100 officers on scene, arresting suspects who investigators believe are drug dealers and other harmful criminals, he declined to characterize it as a "crackdown."
"This is very targeted, very surgical strike," Cox said at a late morning news conference. A "tremendous amount of intelligence" had been gathered in advance to identify the most serious threats to peace in the troubled neighborhood, he said.
"Today is all about getting the worst of the worst out of that area and off the streets," Cox said. "The main goal today is to disrupt the drug trade."
The plan was approved on the state, county and local level, Cox said. Department of Public Safety Commissioner Keith Squires said multiple law enforcement agencies that did not have officers on the scene were assisting by answering emergency calls in the Salt Lake City area while local officers were busy making arrests.
Today's effort launched the first of three parts to Operation Rio Grande, Cox said. Future steps will focus on offering assistance to the homeless and helping them find employment in order to become self-sufficient.
The plan to make arrests required more jail beds that Salt Lake County had available. Cox said five counties have agreed to assist Salt Lake County in its effort to clean up the streets by providing jail space for existing or incoming suspects. On board are Davis, Weber, Cache, Uinta and Tooele Counties.
"We're going after the wolves and making sure people aren't being treated as prey," said Greg Hughes, Speaker of the House of Representatives, at the media briefing. "We're going to see the drug traffic and the drug trade basically be eradicated," he said, adding that it would still exist, but "not like does now."
Cox said phase two — focusing on treatment — is already coming together with financial support from state and local agencies.
"We need to change culture around addiction and mental illness," Cox said. "That will be critical to this operation."
Beginning on Friday, more counselors and social workers will be in the west-downtown area to help individual homeless people, Cox said. And although no beds in treatment centers are available at the moment, 36 will come online within the next couple weeks. Over the next few months, more than 200 beds will become available for those who need them most, Cox said.
Rio Grande Street will be closed to create a safe area for the people there, Cox said.
"We are helping to provide an identification to everyone needs individualized help," he said, by doing clinical assessments of mental health and drug addiction, and providing detox assistance.
Phase three will be a public and private partnership, Cox said, and will "train individuals to be more self-sufficient …. When they ready, we're ready to help them get back on their feet."
Steve Starks, Utah Jazz president, will be approaching business leaders to create news jobs for homeless people who have been schooled on basic life and employment skills, and are ready to start over, Cox said.
Cox said the goal of the program is to "get rid of bad guys, and help the good guys as well."
The multi-jurisdiction task force will also work with other area cities to ensure that drug dealers who may attempt to move their operations over city lines are caught and taken off the streets, Cox said.
"This is only the beginning," Cox said of Monday's Police action. "We are going to be talking about this for two years."