HERRIMAN, Utah, June 7, 2019 (Gephardt Daily) — A man in Herriman was critically injured early Friday morning after police say he was showing off, riding a recently purchased motorcycle, and ran it into a concrete wall.
Lt.  Cody Stromberg, Herriman Police Department, said high speeds and alcohol are being investigated as factors in the accident, which happened in the parking area of the Timbergate apartments, 5605 W. 11830 South, Herriman.
"Just after midnight we received a 911 call about a single-vehicle accident inside the complex here," Stromberg said at the scene.
"Our officers arrived here and found a motorcycle rider had been injured in a crash. The motorcycle had been racing up and down parking stalls, lost control, and ended up impacting this concrete wall  behind me, where it came to a rest.
"Unfortunately, the driver of that motorcycle was not wearing a helmet, and subsequently was transported to an area hopital by a medical and to an area helicopter by medical helicopter in extremely critical condition with severe head injuries."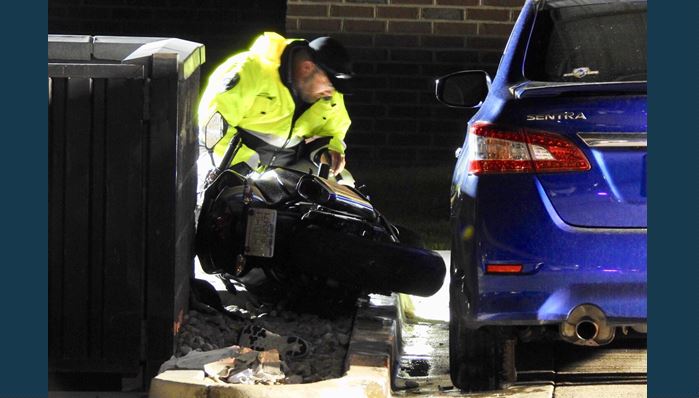 The man's name and age have not been released, nor has an update on his condition.
"The speed issue is something to be addressed, and obviously driving recklessly in this type of an enclosed area is always dangerous, but  had he been wearing a helmet, probably would have been a very different outcome, unfortunately," Stromberg said.
Officers remained on the scene for several hours to collect evidence for speed calculation.
Stromberg said he had no information about the rider's experience level, but that "the motorcycle was a recent purchase.
"Witnesses told us the operator was kind of showing it off as a new purchase."
Stromberg added that the complex is large and busy, and he is grateful no one else was injured in the incident.
Gephardt Daily will have additional information as it becomes available.