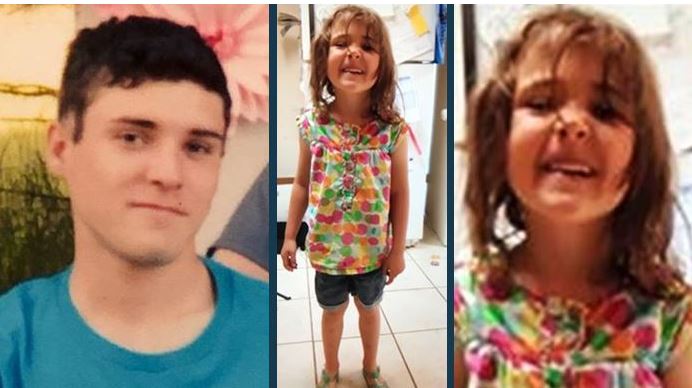 For an updated story, click here.
CACHE COUNTY, Utah, May 27, 2019 (Gephardt Daily) — Logan police said Monday morning that more than 200 law enforcement officials are searching for a 5-year-old girl who went missing Saturday morning.
The child, Elizabeth Jessica Shelley, vanished from the westside Logan home she shared with her mother and her mother's boyfriend.
Her 21-year-old uncle, Alex Whipple, the prime suspect in the case, was last seen in the home about 3 a.m., but vanished, as did the child, sometime during the night.
Monday morning at 9 a.m., the Logan Police Department, which has been providing frequent updates on Facebook, posted the following:
"At this time we are not requesting civilian volunteers. We have over 200 law enforcement officers from a dozen agencies including local, state and federal officers. We hope you can appreciate the sensitive nature of what is occurring. Please be patient. We understand the frustration and the many willing persons who want to help with this search."
The post said that as soon as civilian volunteers are needed, officials will reach out.
Agencies that are searching for Elizabeth include the FBI including their Child Exploitation Task Force and Violent Crimes Task Force, Homeland Security, Cache County Sheriff's Office, North Park Police Department, Smithfield Police Department, Utah Highway Patrol, Adult Probation and Parole and Great Basin K-9.
"More information will be released as the day progresses," the post said. "Once again thank you all for your willingness and for what you are doing with food and drinks to help us with the large numbers working with us."
A subsequent update on Monday said that officers have "located several items of interest a short distance from the home. This item has been tested and there is forensic evidence of 5-year-old Elizabeth Shelley. This evidence also connects Mr. Whipple to the residence from which she went missing and to Elizabeth herself. Some items were then located another short distance away which also shows a forensic connection to our missing 5-year-old."
The update added that when Whipple was interviewed by detectives, he made several inconsistent statements at the beginning and lied about his whereabouts which were already known.
"He was uncooperative throughout the interrogation," the update said. "Several search warrants were obtained and executed throughout the night on several crime scenes and for evidence from Alex Whipple's person. The evidence obtained from Alex Whipple was tested and there are confirmed forensic evidence from Elizabeth Shelley located from off his person."
Citizens have also provided leads on possible sightings of Whipple on Saturday.
On Sunday just after 5 p.m., the Logan PD posted: "Today additional search and rescue support has been called in from several other counties. The search has been expanded to the Hyrum area and we continue to work leads that have come forward."
Monday morning, officials said K-9 units are concentrating their search on a 10-mile stretch, from the westside of Logan to Hyrum, which Whipple is thought to have walked after Elizabeth went missing.
Officials also asked residents in a number of areas to watch for suspicious items on their properties.
"If you live in the southwest Logan, Nibley, Hyrum or Mount Sterling areas please watch for any suspicious items on your property," a Sunday afternoon post said.
"If anything is found, please don't touch it and call dispatch immediately. Also, any residences or businesses in these areas that have an outdoor camera system or ring doorbell camera please review the footage for any suspicious activity between the hours of 10 a.m. and 4 p.m. on Saturday, May 25. Please call dispatch at 435-753-7555 if you have any information."
Logan police also posted an update on Facebook Sunday morning: "The FBI and local agencies worked through the night finishing search warrants and following up on leads. The main suspect, Alex Whipple, continued to be uncooperative and was booked into the Cache County Jail on an FTA (failure to appear) warrant for absconding from probation."
In the meantime, searchers are continuing to comb the neighborhood on Logan's westside, going house to house and yard to yard in hopes of finding the child, who investigators say has likely been "harmed."
Searchers Sunday also drained a number of irrigation canals that criss-cross the neighborhood.
Elizabeth's mother told police she last saw the girl at 2 a.m. Saturday. It was about 9:30 a.m. when Elizabeth's mother and the mother's boyfriend discovered the child missing. They reported her disappearance at about 10 a.m., a Logan City Police official has said.
At that time, Whipple also was missing, but had left his skateboard behind, the scanner transmission said. In addition, the door to the residence had been left open, the dispatcher said.
Logan Police officials initially put out a message asking the public's help to find Whipple and the child, whose name had not been released at that point. That Facebook post went up at about noon on Saturday.
The post was updated at about 3:30 p.m. to say Whipple had been taken into custody.
According to multiple reports, law enforcement officials found Whipple walking in an area near Hyrum.
Talking live on Facebook, Logan Police Captain Tyson Budge said that Whipple is "not being that cooperative, so we are still searching for Elizabeth."
"At this point, all we can really hope for is to locate her and find her OK," Budge said. "The unfortunate thing is we have all the adults accounted for, so the obvious conclusion is she's in a lot of danger."
Budge said that search teams have now refocused on the area around the child's residence and a few other specific sites, in part because Whipple had no access to transportation.
The initial post described the child as as 3 feet 6 inches tall, with shoulder-length curly brown hair and with choppy bangs. She has brown eyes, and was believed to be wearing a red top and blue jeans.
Logan Police officials also posted on Facebook they are asking residents in the area between 300 South to 100 North, and 300 West to 600 West who have video surveillance, including smart doorbells, to check their videos and cameras for the hours between 2 a.m. and noon on Saturday.
Police want any suspicious activity to be reported to the non-emergency dispatch number 435-753-7555, not 911.