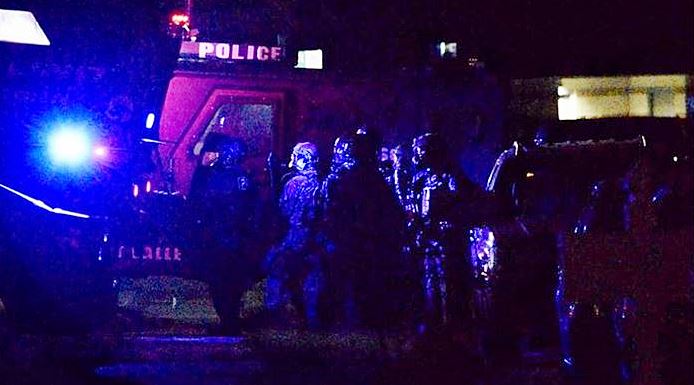 HERRIMAN, Utah, June 8, 2019 (Gephardt Daily) — SWAT officers from multiple agencies responded to a Herriman residence overnight after a wanted man at a scene of a domestic violence call brandished a gun at responding officers.
The domestic abuse call came from a residence near 4654 W. Midas Park Road. Herriman City police responded just before midnight.
"We have dealt with this individual for about a month now," Herriman Deputy Police Chief Chad Reyes told Gephardt Daily at the scene.
"He's been a suspect in a domestic violence case that we've been investigating," Reyes said, adding that police had obtained an arrest warrant, but had not been able to locate the man.
"Tonight we had a similar call to the residence. We hadn't been able to find him until tonight. After we arrived here, we discovered he was inside the residence."
The suspect has been identified as 52-year-old Thomas Taren.
As officers were dealing with another person in the residence, "the gentleman explained that he was armed, and it was apparent that he was distraught enough to either injure himself or seek to have us injure him," Reyes said.
"So we retreated from the home at that point and surrounded the home, contained the home, called in our SWAT team." Also responding were teams from South Jordan, Sandy, and West Valley City, Reyes said.
"We appreciate the assistance from the outside resources."
A negotiator was brought in from Sandy City, but Taren would not budge. After several hours, officers engaged a plan to take the man into custody.
"We just issued commands and then slowly, methodically entered the house, cleared it room by room, and were able to find him hiding in a basement bedroom," Reyes said.
The suspect did not resist.
"At that point, we'd been into this several hours, and I think at that he was ready to give up as well."
Reyes said at the scene that the major response was warranted once the suspect brandished the gun.
"We're not sure if that was genuine or a facsimile or a toy. it looked genuine to our officers," he said. "The level of response we had here — we took it as a credible threat. In situations like this, it causes our officers to fear for their safety and the safety of the community around here, so he will be facing charges for that as well."
Nearby residents were called and asked to shelter in place, Reyes said, adding that typically means "You find a fortified room such as your basement and shelter there."
Taren was booked into jail on existing charges, Lt. Cody Stromberg told Gephardt Daily on Saturday afternoon. Additional charges related to the SWAT standoff will be reviewed by the District Attorney's office, Stromberg said.