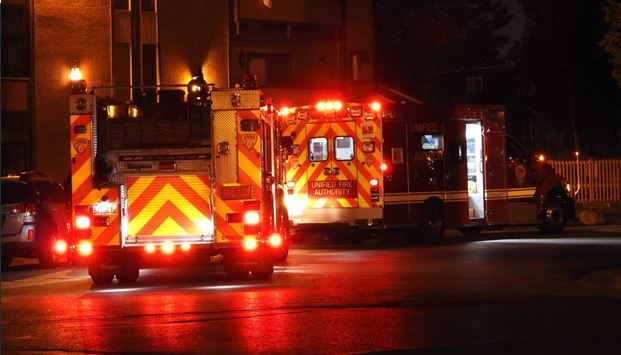 MILLCREEK, Utah, Oct. 3, 2019 (Gephardt Daily) — Multiple officers rushed to the Stonehedge Apartments overnight after the suspect in a domestic violence call reportedly turned violent on responding officers.
Lt. Paul Barker, Unified Police Department, told Gephardt Daily at the scene that officers responded at about 11 p.m. Wednesday to the call, at 4150 South and 500 East in Millcreek.
"The officers arrived at the apartment, went into the apartment, determined there was a domestic violence situation occurring, went to arrest the suspect, suspect started to fight the officers," Barker said. "Two officers received minor injuries. One of the officers has a split lip and the other one has a hurt hand."
The officers summoned assistance.
"The officers in the fight keyed up the radio and said they needed help, one of them had been hurt, so multiple officers responded and got the situation stabilized," Barker said. "Now we've switched to investigation mode."
The suspect and the officers were checked out at the scene by Unified Fire officials, then went to St. Mark's Hospital for additional assessment, Barker said. The female victim was checked out at the scene and not transported, he said.
"… Then the suspect will be going to jail once he's medically cleared."
The man will be charged with assaulting an officer in addition to any charges related to the alleged domestic abuse, Barker said.