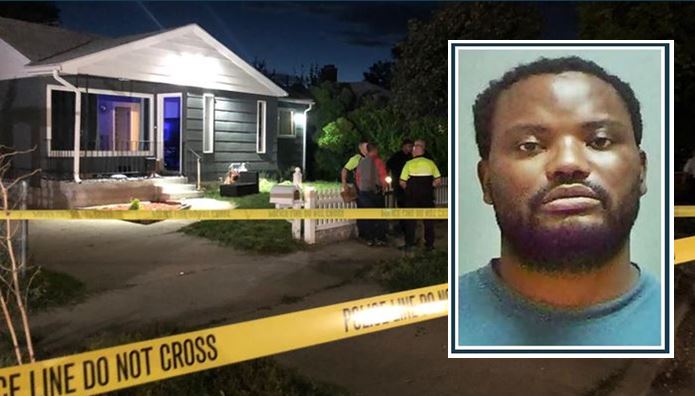 SALT LAKE CITY, Utah, July 10, 2019 (Gephardt Daily) — Investigators with a new search warrant returned late Wednesday afternoon to the home of 31-year-old Ayoola Ajayi, formally charged just hours earlier with the murder of MacKenzie Lueck.
Officers of the Salt Lake City Police Department took brown paper evidence bags into the residence, then put the filled bags into the back of a crime scene vehicle. They then left the residence, located at 547 N. 1000 West, in the Fairpark area just northwest of downtown Salt Lake City.
Detective Greg Wilking, Salt Lake City Police Department, confirmed to Gephardt Daily that the search was part of an ongoing investigation, and more search warrants are likely to be served in the case.
The news conference
The return to Ajayi's residence comes on the heels of a Wednesday morning news conference where Salt Lake County District Attorney Sim Gill revealed new details in the murder investigation, among them that:
A bone, muscle tissue and a small piece of MacKenzie's scalp were recovered during an earlier search of Ajayi's property.
A backyard area area where neighbors said Ajayi had staged a bonfire on June 17 and 18 also smelled of gasoline, which a neighbor confirmed Ajayi's had poured on the large, foul-smelling fire. Belongings consistent with those owned by Lueck were found, charred from the fire and smelling of gasoline.
A red gas can, consistent with one evidence shows that Ajayi purchased on June 17 at a nearby store, was found in the trunk of his vehicle.
Police had revealed earlier that in the early hours of June 17, Ajayi's phone had pinged near North Salt Lake's Hatch Park within a minute of when Lueck phone was at the site, where she arrived at 2:59 a.m.
She was dropped off by a Lyft driver who had picked her up at the Salt Lake International Airport. The driver said that Lueck appeared to be relaxed as she got into another vehicle at the park.
Police say Lueck's phone was powered down after she arrived at the park, and she was never seen or heard from again. She was reported missing on June 20.
A friend of Lueck has said she and Ajayi were acquainted.
More details shared
During Wednesday's press conference Gill also revealed:
Ajayi's phone pings placed him in or near Logan Canyon for two hours on the afternoon of June 25.
On July 3, officials had searched the area and found the remains of 23-year-old Lueck, burned and smelling of gasoline, in a shallow grave.
A doctor with the Medical Examiner's office had noted that a piece of her scalp was missing over the area of blunt-force trauma near her left temple. The intracranial bleeding from that trauma — which left a hole just less than two inches — was likely what killed Lueck, the doctor determined.
Gill also told reporters that Lueck's hands were bound behind her body by rope and a zip tie.
The formal charges filed Wednesday were the same as the initial charges: aggravated murder, a first-degree felony; aggravated kidnapping, a first-degree felony; obstruction of justice, a second-degree felony; and desecration of a human body, a third-degree felony.
Gill noted Wednesday that Ajayi is presumed innocent unless found guilty at trial. Gill also emphasized that the investigation is ongoing, a fact driven home by the subsequent warrant served on Ajayi's residence.
Responding to a reporter's question, Gill said Wednesday it is premature to talk about the death penalty in this case.