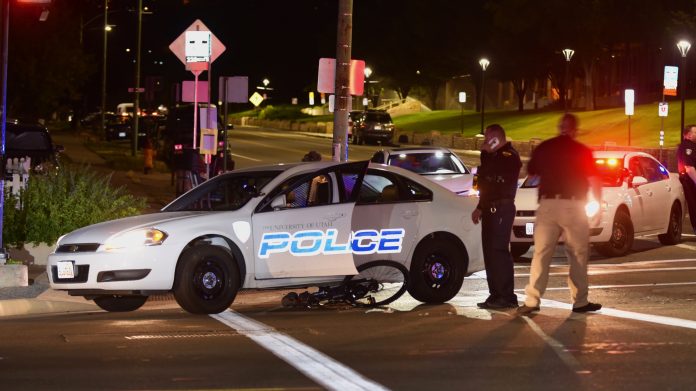 SALT LAKE CITY, Utah, July 19, 2019 — A woman was struck and injured by a University of Utah Police patrol car Thursday night after an officer responding to a call of bicycle thefts in progress spotted her and another suspect fleeing the area on bicycles.
The call came from the Marriott Library just after 9 p.m., Deputy Chief Rick McLenon told Gephardt Daily.
"Officers were responding to that theft in progress, and the suspects were located," McLenon said. "One officer was turning the vehicle around to pursue the suspects, and our officer hit the bike."
The officer's U-turn maneuver ended up clipping one bicyclist, the deputy chief said. The second suspect, whose gender was unknown, dropped the bike they were on and ran.
"Because of the incident, the officer did not give chase," McLenon said. He stayed and "rendered aid" to the suspect who was originally hit.
Additional officers quickly responded to the scene at the intersection of University Street and 400 South, west of Rice-Eccles Stadium.
The woman hit by the patrol car was falsely reported as being critically injured, McLenon said.
"She was evaluated on the scene," McLenon said. "She had no broken bones, required no stitches. She just had some road abrasions. She was taken to the hospital with non-life-threatening injuries."
The bicycle the woman had been riding ended up under the officer's patrol car, and for a time, the woman was partially under the car as well, McLenon said.
After being evaluated, "She was walking around at the scene," he said.
McLenon said it has been confirmed that both bicycles ridden to the scene were those stolen from outside the library.
McLenon declined to provide additional information on the injured suspect, such as her age.
The Salt Lake City Police Department is investigating the incident. Officer involved critical incident protocol requires departments involved in an incident be investigated by other agencies.
"Since it was one of our employees, we requested that come up," McLenon said, adding that the report was not yet complete.