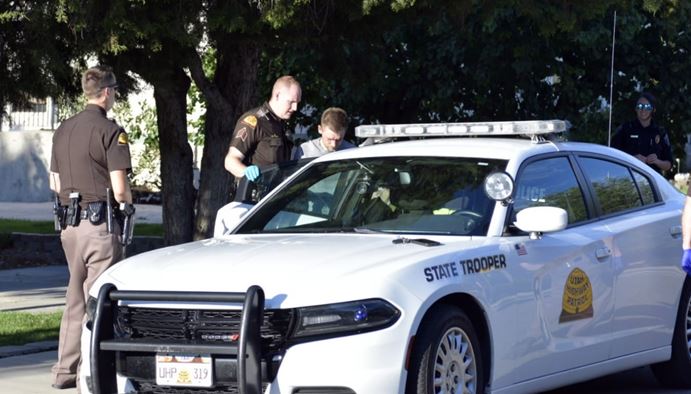 MURRAY, Utah, Aug. 7, 2019 (Gephardt Daily) — A man was taken into custody Wednesday evening after he reportedly hit the car of a Utah Highway Patrol trooper on Interstate 215, then fled the scene into a Murray neighborhood.
"We had a trooper that was on an accident scene, that trooper, while handling that scene, completely separate from this had a vehicle come into him and his vehicle from behind," Sgt. Justin Dial, Utah Highway Patrol, told Gephardt Daily.
"And after that vehicle struck his vehicle, brief contact was made with that individual. The individual then got into his vehicle, and fled the scene."
A short, low speed chase ensued, Dial said. The man's vehicle was located, abandoned, in the area of 6837 South and 75 West, Murray.
"We had officers on the scene, assisting from multiple agencies, and looked for the individual in an apartment complex here. We had multiple canines, but we were unable to locate him. Then we got a phone call, probably about 35 minutes after it initially happened, indicating an individual saw him (the suspect) at the south end of the complex, jumping over a fence into a backyard."
A witness reported seeing the man jump the fence, as did two juveniles who were nearby. Officers found the man hiding under a deck, Dial said.
"We are super appreciative of the public," he said. "It was huge for us to make contact with people who were aware and alert, and willing to give us information. It's great to find people who are willing to help."
The name of the suspect, whom Dial estimated to be in his mid-20s, has not yet been released. Dial said the suspect is well known to police, who have dealt with him on multiple occasions.