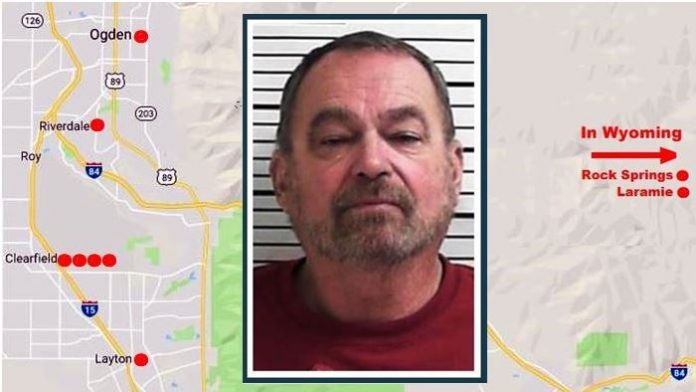 DAVIS COUNTY, Utah, Sept. 26, 2019 (Gephardt Daily) — It was DNA from a distant relative of a suspected serial rapist which led investigators to an arrest in Ogden on Wednesday.
Ogden resident Mark Douglas Burns, 69, was arrested at his residence. His DNA links him to nine cold-case rapes in Utah and Wyoming, officials say, but they believe he could have committed more.
So far, Burns has been charged on suspicion of:
Eight counts of aggravated sexual assault
Six counts of aggravated kidnapping
Two counts of aggravated burglary
Aggravated robbery
Those charges have been filed in Utah. Wyoming officials are reviewing possible charges.
The takedown
Clearfield Police Chief Kelly Bennett said at a news conference late Thursday morning that a DNA specialist, Dr. Barbara Rae-Venter, was key in developing a familial DNA profile that led to a distant relative of Burns. That breakthrough led to the discovery of a man believed to be a closer relative of the suspect. That man provided a DNA swab, which confirmed him as the half brother of Burns.
Bennett said investigators conducted surveillance on Burns' residence, and were able to collect garbage with the suspect's DNA, which was determined to be a match for DNA evidence collected after assaults.
"We were able to identify that in fact, Mr. Burns was our suspect, with a DNA match," Bennett said.
Burns, a trucker, was arrested Wednesday upon his return from a trucking run. He was booked into the Weber County Jail.
The known assaults
The nine rapes, which police say were especially brutal, happened between 1991 and 2001, when one of Burns' jobs as a long-haul trucker ended, the statement says.
The rapes so far attributed to Burns occurred in the following locations and years:
Rock Springs, Wyoming 1991
Riverdale, Utah 1992
Ogden, Utah 1993
Clearfield, Utah 1994
Clearfield, Utah 1995
Laramie, Wyoming 1996
Layton, Utah 1997
Clearfield, Utah 2000
Clearfield, Utah 2001
"Mr. Burns is a long-haul truck driver, and has had routes in the entire western United States," Bennett said Thursday. "For that reason, we do believe Mr. Burns did not stop in 2001.
"We are asking that all the law enforcement agencies surrounding our community as well as in the western United States check their cold cases, and if the rape kits of unidentified attackers have not been entered into the CODIS system, please do so."
CODIS stands for Combined DNA Index System. It's a DNA database.
A Clearfield Police Department statement released Wednesday shared some details:
"Each of the above cases share a similar modus operandi, such as the victim's being bound, repeated sexual assaults over an extended period of time, smell of alcohol beverage, victims living in apartment communities, suspect utilizing sliding glass doors, the use of a firearm or knife, and other personal characteristics and crime scene evidence that will not be released at this time," the statement says.
"It is believed that this suspect has committed additional crimes in Clearfield, as well as in surrounding jurisdictions, or even states."
In May of 2015, details about some of the rapes then believed linked were shared in an episode of the TNT show "Cold Justice: Sex Crimes."
"After the television show was aired, the Clearfield Police Department continued to pursue every viable lead in order to solve these heinous crimes," the department's statement says.
"As technology advanced, the Clearfield Police Department contacted a genetic genealogist, Dr. Barbara Rae-Venter, who was able to study the previously collected DNA evidence to discover a potential familial DNA relationship.
"Over the past several months, Clearfield City Detectives have investigated several viable leads that were the result of the work performed by Dr. Rae-Venter," the statement says.
"Recently, Clearfield City Detectives were able to identify and interview an individual who shared common DNA characteristics with the suspect. Subsequently, detectives were able to identify a possible suspect. The DNA of the suspect was tested and confirmed to match the DNA warrant profile."
The DNA evidence concludes that "Burns committed the brutal attacks in the nine previous mentioned cases," the statement says.
Multiple law enforcement agencies in Utah and Wyoming are working together on the investigation, the statement says.
"We are mindful of the victims and families and extend our sincere appreciation for their continued faith and support throughout the investigations," the Clearfield Police Department statement says. "We hope that they can now find some form of closure to the horrific attacks and abuse that occurred so many years ago."