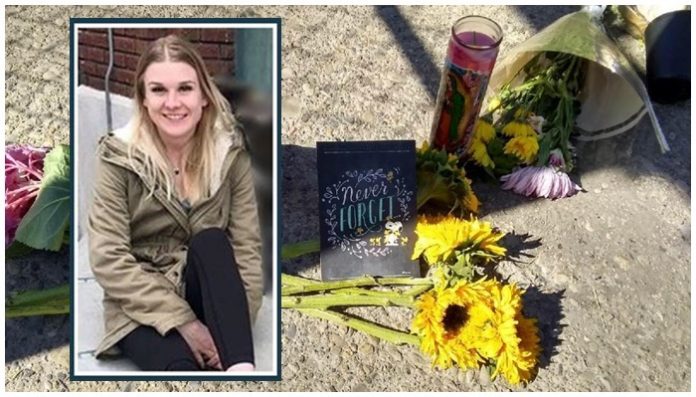 SALT LAKE CITY, Utah, July 10, 2019 (Gephardt Daily) — Prosecutors have filed formal charges in the murder of University of Utah student MacKenzie Lueck.
In a press conference at 11 a.m. Wednesday in downtown Salt Lake City, Salt Lake County District Attorney Sim Gill shared the formal charges filed.
Gill also revealed new details regarding what led officials on July 3 to the Logan Canyon location of Lueck's body, and preliminary findings in her cause and manner of death.
Charges
Ayoola Ajayi, 31, was taken into custody June 28, and booked on the following preliminary charges, which have now been formally filed with the Attorney's Office.
Aggravated murder, a first-degree felony
Aggravated kidnapping, a first-degree felony
Obstruction of justice, a second-degree felony
Desecration of a human body, a third-degree felony
Gill noted that Ajayi is presumed innocent unless his eventual trial finds him guilty, and emphasized numerous times during the Wednesday news conference that the investigation is still ongoing. He said it is premature to talk about the death penalty at this time.
The timeline
Lueck, 23 and a nursing student at the University, was last seen on June 17 of this year on a surveillance recording when she returned from her Southern California home to Salt Lake International Airport. She was reported missing on June 20.
Gill said at the press conference:
"Cellphone records for MacKenzie showed that she exchanged several text messages with an individual later identified as Ajayi in the early morning hours of June 17. MacKenzie's last text to Ajayi was at 2:58 a.m."
Investigators determined she was picked up from the airport by a Lyft driver, and was dropped at 2:59 a.m. at Hatch Park, in North Salt Lake, where she seemed to willingly get into another car before the Lyft driver left to continue with his assigned work.
An intensive forensic investigation determined that Lueck's phone was powered off at exactly 2:59 a.m. at Hatch Park, and was never powered back on. A forensic analysis of phone records shows Ajayi's phone was at the park at the same time at Lueck's, then shows his phone was back at his home at 547 N. 1000 West at 3:07 a.m. Friends of Lueck's have said she and Ajayi were acquainted.
Search warrant
During subsequent search warrant on June 26 carried out on Ajayi's home, "detectives discovered what appeared to be a freshly dug site behind Ajayi's garage. During the forensic excavation of the site, police located a human bone, charred muscular tissue, part of a scalp with hair, a cellphone and other charred personal items."
Gill said Wednesday that in an alley adjacent to Ajayi's home, investigators found charred black fabric, buckles and other items of evidentiary value. DNA testing of the muscular tissue returned a profile consistent with a DNA profile obtained from the personal items belonging to Lueck, Gill said.
A neighbor that was interviewed said that on June 17, that neighbor detected a "quote 'horrible smell' end quote coming from a fire Ajayi's backyard," said Gill. The neighbor stated the fire was behind Ajayi's garage in a pit.
"The neighbor also observed Ajayi pouring gasoline on the fire," Gill said.
A subsequent search of Ajayi's vehicle as part of the search warrant revealed a strong smell of gasoline emitting from the trunk, Sim said Wednesday. Inside the trunk was a red gasoline can. Further investigation discovered Ajayi had purchased a red gas can at the Smith's near his residence at approximately 9 a.m. on June 17.
Subsequent analysis of Ajayi's cellphone on July 3 placed him near Logan Canyon on June 25, between 2:30 p.m. and 4:30 p.m. On July 3, law enforcement responded to the canyon and after a lengthy search located a disturbed area of soil under a grove of trees.
"Under the soil, detectives located a charred human body," Gill said. DNA testing of the body returned a profile consistent with Lueck.
"MacKenzie's arms were bound behind her back by a zip tie, and rope," Gill revealed. " A five-centimeter hole was located on the left side of her skull, with part of her left scalp missing."
Five centimeters is nearly two inches.
It was determined by the Medical Examiner's office that Lueck suffered blunt force trauma to the left side of her skull resulting in significant intracranial hemorrhaging, which would have been fatal. Preliminary determination shows the manner of death to be homicide.
Dealing with grief
Gill reiterated that the Lueck family has asked for privacy at this time as they grieve.
Gill, seemingly overcome by emotion, fell silent briefly, then said said the family thanked strangers and friends for their generosity at this time. The the support and the prayers have helped them through, Gill said, his voice cracking once before he seemed to regain his composure.
Ajayi has personal connections to both Hatch Park and to Logan. In 2016, he lived within a block of the park before he and two roommates were evicted. He also attended Logan's Utah State University, although he did not graduate. USU officials have said that Ajayi, a native of Nigeria, had visa issues at one point, and had to discontinue classes.
Logan police officials also have said Ajayi was reported for the crime of rape, but the alleged victim declined to press charges.
Ajayi is expected to appear before a judge sometime in the next couple of days.