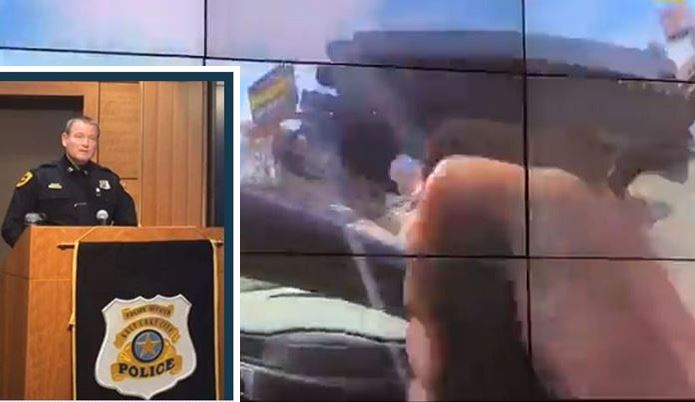 SALT LAKE CITY, Utah, April 19, 2019 (Gephardt Daily) — Salt Lake City Police have released information and shared 911 calls and video of an officer-involved shooting on April 8.
Killed after a rolling active shooter spree — which lasted about 20 minutes and encompassed six crimes in Salt Lake City — was Harold Vincent Robinson, 37.
Conducting the news conference was Captain Jeffrey Kendrick, SLCPD, who spoke only about Salt Lake City's involvement in the multi-city spree, which also included Taylorsville and South Salt Lake. In all, 15 crime scenes were identified.
Kendrick said Robinson, of West Valley City, had previous convictions for crimes including simple assault, assault with substantial bodily injury, possession of drug paraphernalia, possession of a weapon illegally modified.
SLCPD got 65 calls to its dispatch center, with people reporting shots fired and describing an older model white pickup truck, Kendrick said.
● Editor's note: The 911 calls and videos shared below are disturbing and not appropriate for all news consumers. There is an extended period of gunfire caught on the video recordings. Use your best judgment.
The first call came in at 10:42 a.m., and Robinson was shot dead at 11:01 a.m., Kendrick said.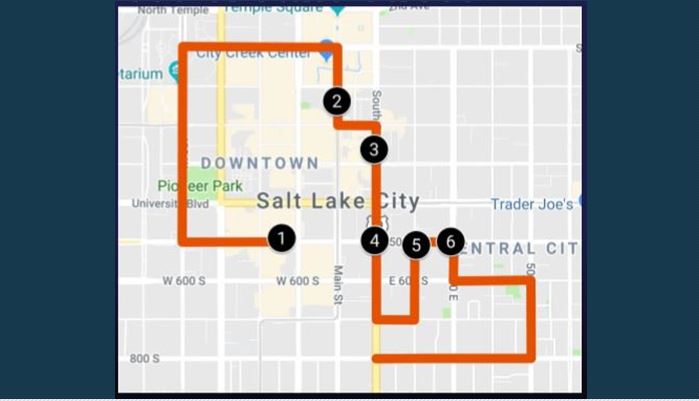 ● Salt Lake City Scene 1 was at 150 W. 500 South. Kendrick said witnesses reported seeing the white truck pull up in front of the Sheraton Hotel and park underneath the portico. A witness saw the suspect, identified as Robinson, drink a bottle of beer, get out of his truck — a Ford F-150 — and use a rifle to shoot up at the portico and hotel.
Police later found holes in the portico and building, and found bullet casings, Kendrick said. Hear a 911 call below:
● Scene 2 was at 136 S. Main. There, callers reported the white truck, a man with a gun, and a report of two or three shots fired. Hear a 911 call below:
● Scene 3 was at 270 S. State St. A Marriott Hotel employee reported the suspect stopped in front of the hotel and said he found several shell casings.
● Scene 4 was at 500 S. State St. Callers reported the suspect fired an automatic weapon at the City County Building. He got out of his vehicle and fired over a car. A 911 call:
● At Scene 5, at 500 South and 200 East, callers told dispatch the suspect fired at another car, a Prius, hitting it multiple times. A 911 call:
● At Scene 6, at 800 East and 500 South, more shots were fired, Kendrick said.
At the final scene, at 3339 State St., the suspect crashed into Princess Alterations. He was fired on by multiple officers firing multiple rounds, and died at the scene.
Officers clearing the vehicle found cash and at least one long gun, Kendrick said.
During the resulting investigation, 10 Salt Lake City Police officers are on administrative leave. Only three officers activated their body cameras before the incident.
On Friday, police released three recordings from body cameras worn by SLCPD officers. Some video was blurred by police officials before the release of the footage.
Scroll down to see the full police videos released, followed by video of the complete news conference, then crime scene photos from the day of the shooting.
Video 1:
Video 2:
Video 3:
SLCPD news conference:
OICI media update

Posted by SLC Police on Friday, April 19, 2019