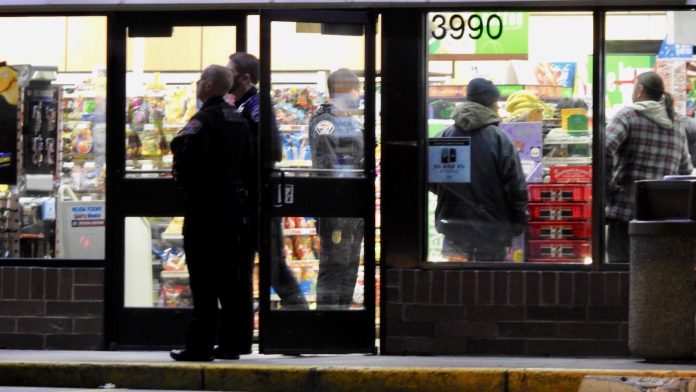 For an updated story, click here.
WEST VALLEY CITY, Utah, May 10, 2019 (Gephardt Daily) — West Valley City police are on the lookout for two robbery suspects after shots were fired during the early morning stick-  up of a 7-11 store Friday.
West Valley City Police Lt. Shane Matheson told Gephardt Daily, the robbery went down about 12:40 a.m. when the men entered the store at 4700 South, 3390 West and demanded cash and cigarettes.
Matheson said the robbers were making their get-away when one of them turned and fired a single shot into the ceiling.
The men ran from the store and headed south into the neighborhood before firing a few more shots as they disappeared into the shadows.
K-9 units were called in as police set up containment, but ultimately came up empty.
Investigators say it's unclear if the men had a get-away vehicle parked in the area or if they lived in the neighborhood and were holed-up in one of the houses.
The suspects were described as black males in their mid 20s. One of the men was said to be carrying a 30 pack of beer.
Matheson said police hoped to release surveillance images from inside the 7-11 sometime Friday.
Gephardt Daily will update the story as more information becomes available.