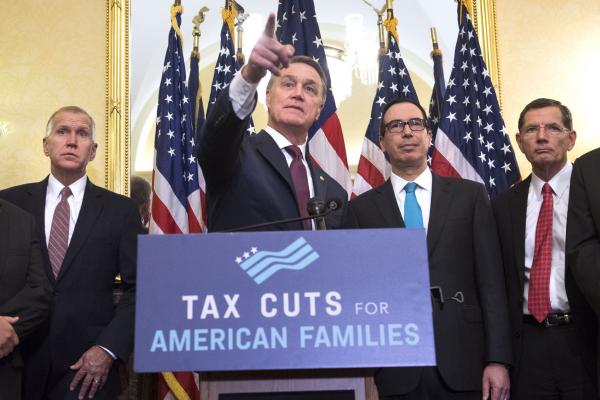 Nov. 9 (UPI) — The Senate Finance Committee will unveil its version of a tax plan, which is expected to have significant differences from a House version, on Thursday.
The proposed Senate bill is expected to eliminate taxpayer deductions for state and local taxes. The House version offers a deduction for property taxes up to $10,000, a demand from about two dozen House Republicans from high-tax states. The Senate bill also preserves deductions for medical expenses and a reduction in the corporate tax rate. It does not eliminate the estate tax.
The Senate bill is also expected to include an increase in the mortgage interest deduction, to $1 million. The House version caps the deduction at the first $500,000 of a mortgage. Businesses with large capital expenses will see lower tax rates than the House bill.
"It'll be a different bill," Sen. Deb Fischer, R-Neb., said.
A formal bill, with detailed language, will come after GOP senators are briefed on the bill's features on Thursday.
President Donald Trump, in Asia, phoned into a meeting of Senate Democrats on Wednesday, telling them the Senate version will be more accommodating to Democratic demands.
"You're going to like it a whole lot more," Trump said, two people present at the meeting told the Wall Street Journal.
Trump's comments complicate the GOP effort to present a united front while keeping both versions of the bill on track, with eventual reconciliation. He has praised the House version, so it is unclear if he prefers the Senate bill. Some Republican legislators in competitive election districts have concerns that they will be forced to vote in favor of a bill, and show constituents they approve of their loss of favorite tax deductions, which will not become a law, the Wall Street Journal reported.
Gary Cohn, National Economic Council director, said, "Don't get too hung up on the House bill," suggesting the White House is more invested in the Senate version.
The unveiling of the Senate bill comes after Democratic candidates won numerous state and local races in Tuesday's off-year election. The Democratic successes are regarded by some as a repudiation of the Trump administration's policies. Republicans in Congress, which has not passed any meaningful legislation in 2017, are eager for a success on the tax overhaul issue to impress 2018 voters.
"There's a lot of pressure to do something now," Sen. Tim Scott, R-S.C., said.