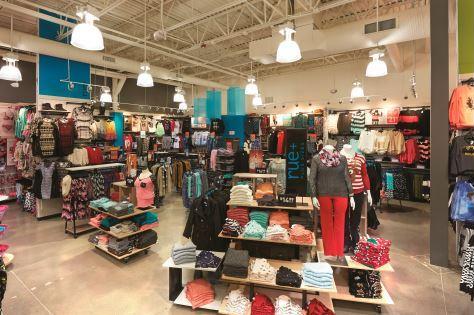 May 16 (UPI) — Teen clothing retailer Rue21 announced Tuesday it is filing for Chapter 11 bankruptcy protection, one month after revealing plans to close roughly 400 of its 1,179 stores.
The retailer, based on Cranberry, north of Pittsburgh, announced plans on agreements with lenders to restructure debt and obtain $175 million in new financing from various lenders.
Rue21 also said it could wind up closing more stores before departing from bankruptcy in the fall.
A federal bankruptcy judge must approve the Chapter 11 plan.
"These actions are being undertaken with the goal of strengthening the company's balance sheet, achieving a more efficient cost structure, and concentrating resources on a tighter retail footprint in order to pave the best path forward for rue21," Melanie Cox, chief executive officer of rue21, said in a statement. "Even in a challenging environment, we are fortunate that rue21 has highly relevant brands, an enthusiastic and loyal customer base and hundreds of highly performing stores. The agreement with our lenders represents their confidence in rue21's future success even at a time of significant retail industry change."
Rue, which means street in French, was founded in 1970 as Pennsylvania Fashions Inc. It changed its name to Rue21 after exiting Chapter 11 in 2003.
Private equity firm Apax Partners bought Rue21 in 2013 for $1.1 billion. With debt of almost $1 billion, the retailer has struggled to make its debt payments as demand for its clothing declines.
"When you are in public relations for private equity, you say leveraging up the company imposes discipline, because they have to generate a certain amount of cash to pay the debt," Jude Gorman, general counsel at Reorg Research, told CBS MoneyWatch earlier this month. "It sounds great until you say, 'But what happens when some sort of secular trend hits and the company doesn't have the cash to make the loan payment?' '"
Retailers face debt and online competition.
"When you combine the costs with the debt — then a thing comes along called Amazon and you don't have the customers anymore, all your 13-year-old girl customers are shopping at H&M — what are you going to do?" Gorman said. "There's no real solution."
Rue21 seeks to appeal to teen boys and girls.
"We're young, fun and fresh," the company says on its website. We're energetic and playful. We believe in changing things up while staying true to yourself. And we're passionate about giving you a voice and the right to express yourself the way you want. It's why we never stand still."