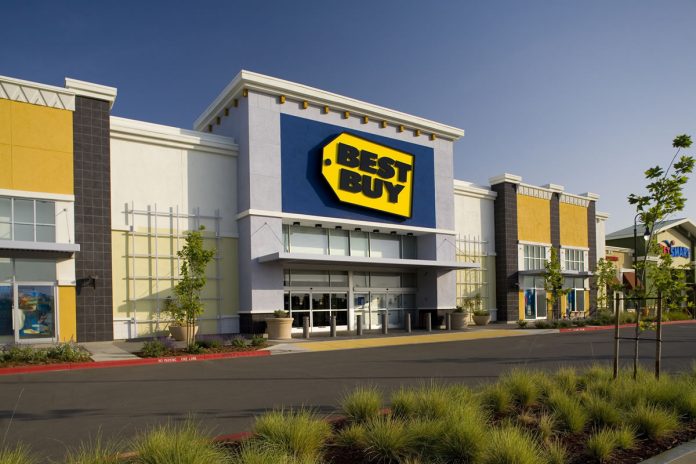 Best Buy Holiday Sales Rise But Lowers Outlook


Best Buy said Thursday that sales during the key holiday season rose 2.6%, as consumers were more willing to spend on products including new big-screen TVs and smartphones.
Large-screen TVs and smartphones were "the primary drivers of our year-over-year revenue growth, more than offsetting significant weakness in tablets," said Best Buy president and CEO Hubert Joly in a statement.
However, shares of Best Buy fell nearly 8% in early trading Thursday on concerns about 2015 sales. The electronics retailer warned that falling prices and expected slow demand for consumer electronics could lead to flat or single-digit declines for the first half of the year.
Shares had risen nearly 5% this week — from $38.04 to $39.91, after Goldman Sachs upgraded its stock from "neutral" to "buy.
[one_fourth]
[/one_fourth][three_fourth_last]
The electronics retailer reported overall domestic revenue of $10.1 billion for the nine weeks that ended Jan. 3, 2015, an increase of 4% over $9.7 billion in the 2013 holiday shopping season. Last year, Best Buy saw an 0.8% decline in holiday sales, in part due to a shorter than usual shopping season that was marked by cold weather nationwide.
"In the holiday period, we delivered $11.4 billion in Enterprise revenue, reflecting a 2.6% domestic comparable sales increase, excluding the 80-basis point estimated benefit of installment billing," said Best Buy president and CEO Hubert Joly in a statement. "A compelling merchandise assortment, strong multi-channel execution, and a more favorable year-over-year macroeconomic environment drove these better-than-expected results."
Last holiday season, the electronics retailer's sales were down 0.8% for the nine weeks ended Jan. 4 at stores, websites and call centers open for at least 14 full months. Despite the drop, it was an improvement over the 1.7% decline in the same period a year earlier.
Best Buy's report is the first from major retailers to offer insight into holiday sales performance. A report from the National Retail Federation on Wednesday raised questions about the strength of consumer spending, which has shown recent favorable signs.
While holiday sales increased 4% over November and December — the best holiday sales season since 2011 — the federation found that for the month of December, sales fell 1.6% at electronics stores, 0.3% at clothing retailers and 0.9% at general merchandise stores.
Also last week, USA TODAY reported on exclusive data from payments technology firm First Data that said holiday sales increased 3.2%. First Data only analyzed same-store sales, a metric that includes stores open at least a year.