"Aloha"
Starring: Bradley Cooper, Emma Stone and Rachel McAdams
Directed by: Cameron Crowe
Sony Home Entertainment / Rated PG-13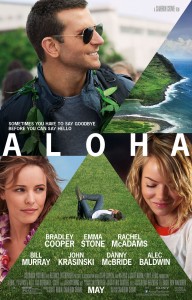 "Aloha" stars Bradley Cooper, Emma Stone and Rachel McAdams in this bland romantic comedy about a celebrated military contractor returning to the site of his greatest career triumphs – the US Space program in Honolulu.
He reconnects with a long-ago love but unexpectedly falls for the gung-ho Air Force assistant assigned to him. Now he must decide between an old flame and a new one.
When it was released in theaters last May, writer/director Cameron Crowe was under fire for the film's alleged lack of character diversity and respect for Hawaiian culture. Now that things have settled and the film did a meager $21 million  it's entire run, there's not much press in taking pot shots at a flop.
"Aloha" is a predictable rom/com that, even with an above average cast, ends up as a monotonous and silly mess. Although there were a couple of "nice" moments, nothing in the movie was memorable or truly engaging.
"Aloha" is barely average it gets a C- and it's rated PG-13

"Where Hope Grows"
Starring: Danica McKellar, David DeSanctis and Kristoffer Polaha
Directed by: Chris Dowling
Roadside Attractions / Rated PG-13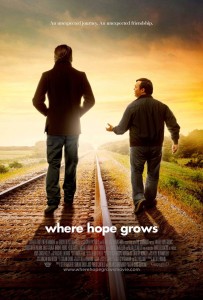 "Where Hope Grows" is an inspirational story, when a baseball player whose professional career was cut short due to his personal problems is suddenly awakened and invigorated by a young-man with Down syndrome who works at the local grocery store.
Although the film is constantly trying to pull at your heartstrings, it does seem to work. I found when the story wasn't trying so hard to squeeze out every drop of emotion out of the audience, it actually worked well.
David DeSanctis, who has Down Syndrome in real life, did an admirable job playing Produce.
All and all it is a likable film and deserves a B-. It's rated PG-13