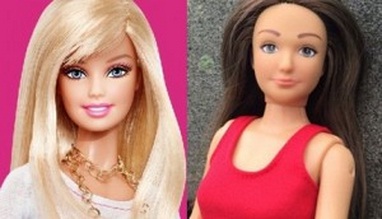 Perfect or Flawed Barbie?
Step aside, Barbie. There's a new sheriff in town. She's Lammily, the doll with a more realistic body shape, replete with "flaws" (think: cellulite and acne). And yes, she is now on sale for children.
Lammily (pronounced as Lamb-ah-lee) aims to give Barbie a run for her money and a good shot of self-esteem to young girls who may have been traumatized by Barbie's unrealistic perfection.
Lammily is a dream come true for every little girl who brushed her Barbie's hair knowing hers would never flow so perfectly blonde. She's a dream for all the girls whose freckles and bruises made them feel less-than. Because guess what? Lammily has them too. The doll can be customized with removable stickers to include real-life flaws such as cellulite, acne, freckles, and scrapes. She even comes with temporary tattoo stickers.
Check out what these second graders had to say about the doll:
[one_fourth]Replace Me[/one_fourth] [three_fourth_last]Created by Nickolay Lamm, the doll was funded with crowd source dollars, which means there was a real need. Though Lamm is a man (amazing, right?!), even he was tired of unrealistic-looking Barbie dolls.
The truth is, Barbie had to go. Her proportions — the tiny waist, enormous breasts, legs for days — would make it virtually impossible for Barbie to stay alive. Still, we all grew up with her. We lovingly stroked her hair, changed her clothes a million times, and eventually cut it all off to make her a punk rocker (wait, was that just me?).
Lammily comes standard as a brunette. And while this may alienate blonde children, it's a nice change of pace.
Beyond her body shape and hair color, the doll is designed to show that "average" is beautiful, Lamm says. Not everyone loves the message, though. Many people are debating whether the doll or her "imperfections" really achieve what Lamm is trying to get at. After all, won't this doll alienate the girls who lack stretch marks and brown hair?
In all seriousness, there is more than enough room for two to play in Barbie's dream house. The two dolls can share clothing and live side by side in happiness, one perfectly dreamy and impossible, the other perfectly adorable in all her imperfection. And that's probably the message we all want for our kids, right? Let's all get along and live in harmony. Amen.
Would you buy this doll?