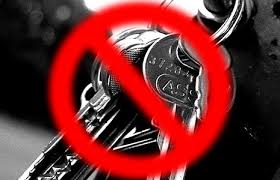 Throw Away the Keys – Try This App
The August Smart Lock is the safe, simple, and social way to manage your home's lock. Now you can control who can enter and who can't—without the need for keys or codes. And you can do it all from your smartphone or computer.
A new app-powered door lock could move smart home locks into the mainstream.
The brainchild of industrial designer Yves Behar and tech veteran Jason Johnson, the August Smart Lock is a keyless lock system powered by a mobile app.
(Photo: August Smart Lock)
The $249 device, which screws into most standard locks, promises to eliminate fumbling and hunting for keys. (For now, you'll still need to hunt for your phone).
The Smart Lock is competing in a growing market of Internet connected home devices, from security systems like Dropcam to products like the Nest connected thermostat. These products and their potential to create "the connected home" are expected to be one of the big themes of the upcoming Consumer Electronics Show in Las Vegas.

USA TODAY
'The connected home' is going to be big at CES
The August Smart Lock has a strong pedigree in the tech and design worlds.
Behar, known for designing tech devices like the Jawbone fitness band and PayPal's new logo, and Johnson of entrepreneur club Founder's Den, were searching for a new way to give others access to their homes. The result is a keyless lock system that retrofits your existing deadbolt and key set, replacing only the thumb-turn on the inside face of your door.
"We wanted to make something that was simple for most people to buy at a store, take home and install themselves," said CEO and co-founder Johnson. The installation should be a quick two-screw job for around 85% to 90% of U.S.-based deadbolts.
It's more like the disconnected home
It's not the first so-called smart lock; established home security companies like Schlage and Kwikset also offer internet-connected locks. Kwikset Kevo, a Shark Tank-winning system also came before. Similar to the August Smart Lock, it connects and communicates with the phone via Bluetooth.
Most recently, Sony decided to crowdfund a little more security. The Qrio Smart Lock allows users to combine smartphones and deadbolts, sharing encrypted keys with friends via messaging apps like Line and Facebook.
2015 could be year of first smart-home hacks
Still, its handsome design, clever software, and social features could perhaps make the August Smart Lock the gadget that gets people to lighten up their key fobs. Their motto is "Safe. Simple. Social." You could see it being a favorite among realtors and Airbnb hosts.
The basic installation involves taking out two screws and replacing your existing interior lock turn, keeping the actual lock mechanism and exterior key plate intact. Once installed, you can manually lock the door from the inside by turning the chunky, ridged lock module itself, or you can bring your iPhone within range of the unit — it operates using Bluetooth Low Energy — and control it that way. Users can control and manage it from an iOS, Android or web app.
(Photo: August Smart Lock)
An auto-unlock feature, currently in beta, senses the user's approach and unlocks the door without the person reaching for the phone.
While many hardware start-ups seek crowdfunding platforms like Kickstarter and Indiegogo to raise funds as well as awareness, August decided to skip that step. After a year of research the co-founders came up with the August concept, filed patents and started real-world testing of their smart lock, seeking the help of independent security contractors and professional hackers.
"We knew we would take a lot of capital to do this well, so we forewent raising money from individual contributors and instead raised money from venture capital," Johnson said.
Jefferson Graham visits a working smart home in Redondo Beach, where an app by Belkin turns on the lights, opens the garage door, starts the morning coffee and more. The smart home is showcasing Belkin's WEMO products. Video by Sean Fujiwara.
When the hardware start-up first let the world know about its smart lock in May 2013, the company thought it was only a few months away from having the product ready to ship. But it received more than 60,000 pre-orders and the company had to delay its shipments to improve the product, safety and its reliability.
[one_fourth]
[/one_fourth][three_fourth_last]
Today, August has 45 employees. The notoriously-selective Apple Store is selling it. And August was named as one of the official partners of Apple's HomeKit, the home automation software that would ensure any connected home device would work with Apple's new mobile operating system.
August has raised $10 million total in venture capital from Maveron, Rho Ventures, SoftTech VC and others.
The lock features a social networking aspect. The August app includes a Guestbook function that lets hosts leave a comment or photo that will be sent to visitors upon their arrival. The guests can then return the favor by leaving a comment via the app when they leave.
The August Smart Lock also uses the same communication encryption technology commonly used in banks, which should help protect it from hackers.