WASHINGTON, Nov. 10 (UPI) — Students across the country will take to the streets Thursday to protest rising higher-education debt and call for free tuition at public universities.
The Million Student March is expected to draw students from some 100 colleges and universities nationwide to demand tuition-free public universities and colleges, the cancellation of all student debt and a $15 minimum wage for all campus workers.
Organizer Keely Mullen, a student at Northeastern University in Boston who expects to graduate with $150,000 in debt, said the day is meant to focus on political and economic change.
"Our country has abandoned its responsibility to educate future generations. Today we are dealing with a curriculum that reflects a corporate agenda, outrageous university tuitions and fees, massive student debt, and a K-12 public education system under attack by budget cuts, charter schools, standardized tests and the school-to-prison-pipeline," Mulllen said. "I feel that not only are these issues interconnected, they are rooted to our history of military and political aggression. We cannot standby any longer while our education system is destroyed from within. It's time to take action"
Student organizations across the country announced the march on social media. It's unclear how many students will participate.
Sam Lofquist, a student organizer at the University of Pittsburgh, said they've been getting the word out on campus through flyers and student clubs.
"It's hard to say how many will be there,: Lofquist said on Twitter. "Close to 300 rsvp'd."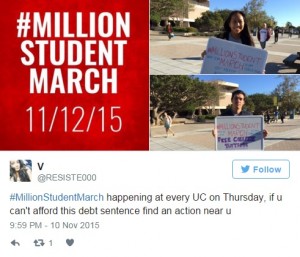 The United Hawaii Student Union said several local politicians, including state Sen. Russell Ruderman, a Democrat, will speak at the demonstration at the University of Hawaii at Hilo.
"We need change and change starts in the street when people demand it," organizers said.
At $1.2 trillion, federal student loan debt is the largest source of consumer debt in the United States outside mortgages. Of those, 7.5 million borrowers are severely behind in payments. The average student loan debt is $30,000.