"The Walk"
Starring: Joseph Gordon-Levitt and Ben Kingsley
Directed by: Robert Zemeckis
Rated PG
In 1974, high-wire artist Philippe Petit recruits a team of people to help him realize his dream: to walk the immense void between the World Trade Center towers.
Guided by his mentor Papa Rudy, played by Ben Kingsley, Petit and his team overcome long odds and close calls to conceive and execute their mad plan.
Although not a perfect film, it is truly one of the best cinematic experiences of the year. Told in a kind of storybook format, "The Walk" is an inspirational and well paced film.
In this "based on a true story" film, Joseph Gordon-Levitt puts in a stellar turn as Philippe Petit and captures not only the man, but the hunger he feels to go further and higher than anyone else before.
I suggest you see the film the way director Robert Zemeckis intended it to be seen; In a big screen format, preferably IMAX with great sound.
"The Walk" gets an A- and is rated PG.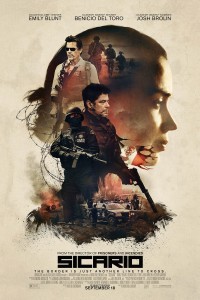 "Sicario"
Starring: Emily Blunt, Benicio del Toro and Josh Brolin
Directed by: Denis Villeneuve
Rated R
Emily Blunt stars as an idealistic FBI agent who is enlisted by an elite government task force to aid in the escalating war against drugs at the border area between the U.S. and Mexico. The film's violence and brutality is a non-stop reminder of how vicious the drug cartels are.
Although Blunt's character is with this task force, which is commanded by Benicio del Toro and Josh Brolin, for a few days, she begins to understand that there are places and situations where the rule book doesn't apply.
There is an odd but effective balance between the three main characters. Blunt is the novice and needs everything explained to her, del Toro is a cold effective killer seeking revenge and Brolin has become numb to the situations he encounters.
But he allows himself a joke and a smile once in a while, showing off an incredible charm buried under the surface.
All in all "Sicario" is worth the ticket in; especially for Blunt's performance, which I am sure will win her an Oscar nod this year.
"Sicario" gets an A and is rated R.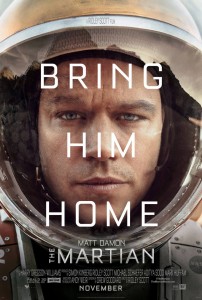 "The Martian"
Starring: Matt Damon and Jessica Chastain
Directed by: Ridley Scott
Rated PG-13
After landing on Mars, astronaut Mark Watney is presumed dead after a fierce storm and being left behind by his crew. But Watney has survived and finds himself stranded and alone on the hostile planet.
With only meager supplies, he must draw upon his ingenuity, wit and spirit to subsist and find a way to signal to Earth that he is alive.
Matt Damon was stranded once before in the film "Interstellar," but that didn't turn out so good.
This time out Damon manages to ingratiate the audience from the first frame of film because Mark Watley is a nice guy, and Damon is a natural at being the "all-American hero."
Using humor and science, the film manages to get the audience involved. I liked "The Martian" just for those reasons, it kept me involved with the struggle to not only stay alive, but not to go crazy while surviving.
"The Martian" gets an A- and is rated PG-13.