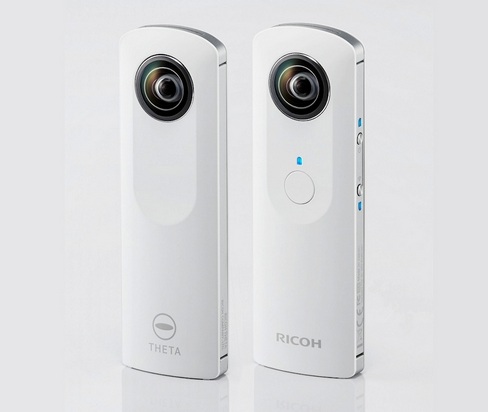 'Ultra-panoramic' Cameras Will Capture 360-degree Vistas For Consumer

Ultra-panoramic cameras and camcorders, which capture an entire 360-degree panorama of a scene, aren't exactly new. For instance, in the security industry, there have been a number of devices with that capability.
[one_fourth]
[/one_fourth][three_fourth_last]
But in the past few months, several companies have introduced models targeted at general consumers looking to capture fun and unusual photos and videos. Here are three we saw at CES 2015:
Ricoh Theta ($300)
The Theta, which was introduced by Ricoh a few months ago, uses two lenses, one on the front and one on the back of the camera body, to produce 360-degree photos and videos (up to three minutes).
It has a long, thin, lightweight body construction, which may make it a little tricky to hold steady.
In addition, this model has both a mobile app (for iPhone or Android devices) and a Windows or Mac-based software application. It comes in four colors (blue, yellow, pink and white).
Kodak PixPro SP360 Action Bag ($300)
This action cam, which has just one lens, has a unique design that allows you to create 360-degree panoramic videos. But it can capture video in a more conventional aspect ratio as well.
It features wireless connectivity (including NFC), has long battery life, and can fire off photos at 10 frames per second. Additionally, Kodak offers a number of accessories to go with this model, including a waterproof housing, a surfboard adhesive mount, and a head strap.
Giroptic 360cam ($500)
This nicely designed model, which has a sturdy magnesium alloy construction, can capture both HD video and still photos in a 360-degree panorama. This action cam does so by stitching together footage from its three lenses and three sensors.
According to the company, it captures the entire panorama in full HD video (2048 x 1024 at 30 fps), and can also produce still panoramas (8 megapixels). Other features include surround sound with three microphones, GPS geotagging, and video streaming over Wi-Fi.