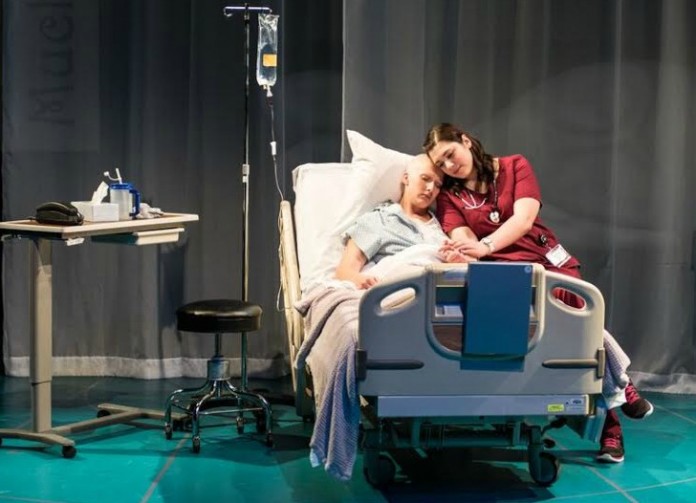 OGDEN, UTAH – November 19, 2015 (Gephardt Daily) ─ Physicians' empathy declines over the first few years of their careers, but it can be retaught, according to an ongoing study by Weber State University students.
"Around the third year, their empathy starts to drop," said Lauren Fowler, WSU psychology and neuroscience professor. "It's a defense mechanism. If someone has to be told he has cancer that will kill him, it's the worst day of his life. For a physician, it is Tuesday."
WSU student researcher Chase Brower said patients want to know their physician is emotionally invested.
"Empathy is important in health care because it shows the patient that you do care about them," Brower said. "A physician's job is to make sure the patient is comfortable in their care. The patient really just wants to know they are in good hands."
In a two-year study, Weber State student researchers have been collecting data using the play "W;t," playwright Margaret Edson's 1999 Pulizer Prize winning drama about a women coming to terms with her terminal cancer.
Students have tested the empathy level of physicians and non physicians before and after subjects read the play, saw a film version of the play, or watched a live performance of "W;t" by WSU actors.
Test subjects, who answered questions and had their facial reactions to the works measured, showed the strongest increase in empathy after watching the live theater production. Second most powerful was watching the film, but empathy was still increased to a lesser extent even after test subjects read the book.
"The research has shown it is trainable," Fowler told Gephardt Daily. "You can expose yourself to things and rebuild your empathy."
Fowler said other studies have shown that patients comply with doctors' instructions more fully, heal faster, and leave the hospital sooner when they perceive their physician as being empathetic.
"Patients spend less time in bed, which is less expensive for them and the hospital, and it lowers healthcare costs," Fowler said.
Fowler said few studies have been done about whether doctors' increased empathy levels corresponds to increased stress.  Empathy studies conducted with nurses as subjects did find an increased "burn out" rate in nurses with higher levels of empathy, she said.