What's New on DVD, Blu-Ray and Digital HD Tuesday, June 16
"Chappie"
In the near future, crime is patrolled by an oppressive, mechanized police force. When one police droid, Chappie, is stolen and given new programming, he becomes the first robot with the ability to think and feel for himself.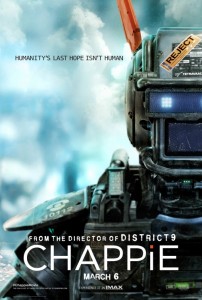 Ok – it must be said Chappie offers nothing new in this genre of robots protecting humans against — well humans.
We have seen already – "I,Robot," and "Robocop," "Bicentennial Man," "Star Wars," "Battlestar Galactica," "A.I" and "The Iron Giant" – there is a ton of other stories where the robots overcome their programming.
But Chappie never learns from these films, although it uses many of their plot devices and yet never seems to come to a point.
Also, setting the story in Johannesburg, South Africa might have seemed like a "cool" idea to the producers, but in truth, audiences probably would care more if the city under siege was more cosmopolitan like London or New York.
By the film's end Chappie is just Crappie and gets a D. It's rated R.
"Run All Night"
Liam Neeson and Ed Harris star in "Run All Night" – Professional Brooklyn hitman Jimmy Conlon was best friends with his boss Sean Maguire.
But when Jimmy's son, Michael, is marked for death by the mob, Jimmy must go up against Sean to protect Michael at all costs. Together, he and Michael must avoid corrupt cops, contract killers and the mob to survive the night.
The film is a high-body count movie, with car chases, car crashes, explosions and guns, guns and more guns! "Run All Night" will please action lovers and Neeson is in familiar territory.  But that's kind of the problem with the film… the star of the movie isn't doing anything really new. Whether he's in a plane, or hunting for his daughter, or cracking down on the mob, Neeson is stuck. He labors to anything but bored and detached.
Even the dialogue in this mob-opera is stilted and borrowed, making the movie only average.
It gets a C and is rated R.
"Unfinished Business"
In "Unfinished Business," a hard-working small business owner and his two associates travel to Europe to close the most important deal of their lives. But what began as a routine business trip goes off the rails in every way imaginable – and unimaginable.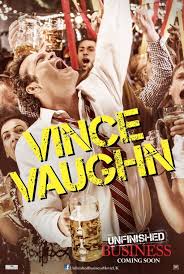 Once again Vince Vaughn is cast as the fast-talking, gung-ho, annoyingly positive thinking "everyman" who must juggle business, family, friendships and relationships while trying to make the "big score" to prove he has what it takes.
Once again, like Vaughn's character in the film, audiences will go into darkened movie theaters everywhere and hope that this time, this film will be different.
Sadly, by the end of the first reel, we begin to realize that ship has sailed.
What we are left with is a confusing and disoriented movie that never quite knows what it wants to be. Is it a family film, an adult romp, a frat-house film or a buddy picture?
The answer is never clear. 

What is clear is that "Unfinished Business" is not an enjoyable romp like it should have been. It ends up a pedantic, lackluster, pushy comedy with only a few enjoyable moments.
It gets a C- and is rated R.