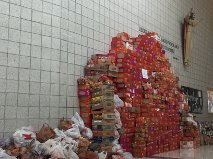 DRAPER, Utah, Feb. 3, 2016 (Gephardt Daily) ─ Juan Diego Catholic High School students tackled hunger this week, and scored a big haul of non-perishable foods in Utah's Souper Bowl of Caring.
On Monday, the students were challenged to break previous school records for the annual food drive. And, when the cans and other non-perishable foods were stacked and tallied, there were more than 25,000 items. The 12,379 pounds collected not only broke records, it shattered them.
When Hurricane Katrina hit more than a decade ago, Juan Diego students decided to start a canned food drive to help those displaced by the disaster. Over the years, the school collected 5,000 to 7,000 thousand items annually for Utah's emergency food pantries.
Two years ago, Juan Diego joined in the national Souper Bowl of Caring to challenge the study body to meet higher collection goals.
This year's campaign will benefit Catholic Community Services, which serves people in need of emergency food and housing, including those in the refugee relocation program.