October 16, 2105 (Gephardt Daily) — Opening in theaters today are four new films. The children's halloween film "Goosebumps," the gothic-horror film "Crimson Peak," Steven Spielberg and Tom Hanks re-team for "Bridge of Spies" and "Freeheld" stars Julianne Moore in what may win her a second Oscar.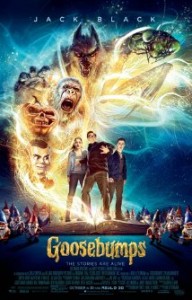 "Goosebumps"
Starring: Jack Black
Directed by: Rob Letterman
Rated PG
Upset about moving from a big city to a small town, teenager Zach Cooper finds a silver lining when he meets the beautiful girl next door and her mysterious dad who is revealed to be R. L. Stine, the author of the bestselling Goosebumps series who is guarding a monstrous secret.
"Goosebumps" is a terrific Halloween film in the same vain as "Hocus Pocus." The film, directed at families, does a great job in entertaining with humor for both kids and parents.
Let your inner child loose and enjoy the fun.
It gets a B- and is rated PG.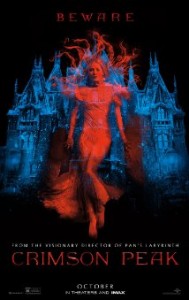 "Crimson Peak"
Starring: Tom Hiddleston, Mia Wasikowska and Jessica Chastain
Directed by: Guillermo del Toro
Rated R
Edith Cushing is running away from a childhood trauma. She marries Thomas Sharpe, a mysterious stranger. She comes to live with him and his sister, Lady Lucille Sharpe. She starts to find out that the Sharpe's home is filled with ghosts.
The film is a visual masterpiece with a great ensemble cast. Tom Hiddleston, Mia Wasikowska and Jessica Chastain all put in terrific performances.
The ending, which the entire film should have built into, is unremarkably predictable and tacked on.
All in all the film is a bit laborious to watch. It gets an average C and is rated R.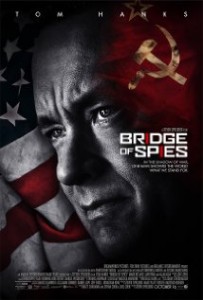 "Bridge of Spies"
Starring: Tom Hanks
Directed by: Steven Spielberg
Rated PG-13
Tom hanks stars in this 'based on a true story' of James B. Donovan, a lawyer, recruited by the CIA to negotiate the release and exchange U-2 spy-plane pilot, Francis G. Powers who was taken prisoner after his plane was shot down by the Soviet Union during a mission, with a KGB intelligence officer, Rudolf Abel arrested for espionage in the US.
Hanks shines in the role and proves, once again, he can do just about anything.
The story is compelling and director Spielberg takes his time to tell it. The film does a great job to convey the paranoia of the cold war era and the methodology of the information gathering during that time.
"Bridge of Spies" gets an A – and is rated PG-13.
"Freeheld"
Starring: Julianne Moore and Ellen Page
Directed by: Peter Sollett
Rated PG-13
Julianne Moore stars in the true story of Laurel Hester, a police detective who discovers she has stage four lung cancer. She wants to leave her domestic partner, played by Ellen Page, her pension but runs into opposition because of her lifestyle.
Moore's portrayal of Laurel is raw and truthful as she battles both cancer and her community she served as a police officer. This is a brilliant, Oscar-worthy performance, which is buoyed by an exceptional cast which includes Ellen Page, Steve Carell and Michael Shannon.
"Freeheld" gets an A and is rated PG-13.