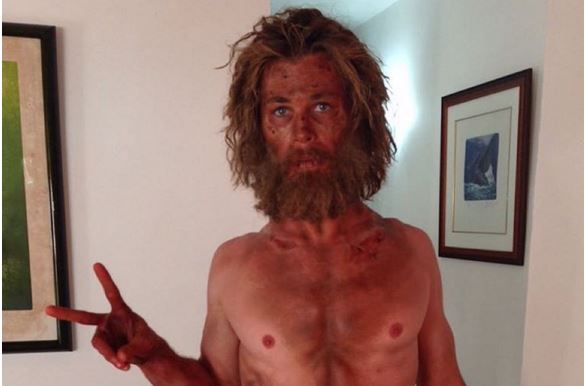 NEW YORK, November 24, 2015, (UPI) ─ Chris Hemsworth says the strict diet he adopted to play an emaciated sailor for In the Heart of the Sea left him so hungry he ate a prop on the maritime movie's set.
The 32-year-old Australian actor made headlines this week when he posted a photo on Instagram of his shocking weight loss for the film.
Directed by Ron Howard, the movie chronicles how crew members survived 90 days at sea after their whaling ship was disabled by an enormous sperm whale in 1820. The story was the basis for Herman Melville's classic adventure novel Moby-Dick.
"The physical transformation… From the very beginning, we all had somewhat of a goal that we wanted to get to, which was to look as skinny as possible and as beat-to-hell as we could possibly make ourselves look. So, we started on one diet — a very sort of normal, few-thousand-calories — and then, each week, we would reduce that intake until the last couple of weeks when it was down to about 500 or 600 calories a day, which is a pretty ugly sort of an experience and led to some interesting mood swings and inconsistent patterns of emotion, many that my wife [Elsa Pataky] can vouch for," Hemsworth said at a press conference in New York Sunday.
"But what was kind of great about it was we were all doing it together, so, certainly, I reckon it formed this great camaraderie and bond between us — one that we might not have got or found in such depth, if we hadn't had that experience together," Hemsworth said.
"It did kind of make our jobs easier," agreed 33-year-old cast member Ben Walker. "We were miserable, cranky, emotional and then, eventually, really kind of jaundice, translucent and faint. And, if you could remember your lines, you did pretty good."
Hemsworth laughed as he recalled how he came to regard as "amazing" the usually unappealing hardtack bread he and the rest of the ship's crew ate on screen.
"It tasted like gingerbread and it was the set's prop. You're not meant to eat the props or the set, and it comes out and I've got this little box of it and, in this scene, you have to break off a piece and I'm like, 'This is delicious.' So, in between the scenes, I was like, 'This is awesome.' And then the props guys were like: 'We don't have much. Stop eating it!' And I was like, 'It's fine, it's fine.' And I was sneaking more and more of it. And then later, once I had eaten, I had a taste of it, I was like, 'This tastes horrible.' But in that state, being starving, it was delicious."
Co-starring Brendan Gleeson, Tom Holland, Cillian Murphy and Ben Whishaw, In the Heart of the Sea is to open in U.S. theaters Dec. 11.