HOLLYWOOD, Calif., Feb. 27, 2016 (Gephardt Daily) — "Star Trek" fans have some good news as Nicholas Meyer joins the new TV series in production.
"Nicholas Meyer chased Kirk and Khan 'round the Mutara Nebula and 'round Genesis' flames, he saved the whales with the Enterprise and its crew, and waged war and peace between Klingons and the Federation," said showrunner Bryan Fuller in a press release.
"We are thrilled to announce that one of 'Star Trek's' greatest storytellers will be boldly returning as Nicholas Meyer beams aboard the new 'Trek' writing staff."
In 1982, at the behest of then Paramount executive Karen Moore, Meyer was hired to direct "Star Trek II: The Wrath of Khan."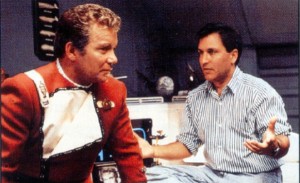 After a brief stint directing and producing 'made for TV films,' Meyer returned to working on "Star Trek," co-writing the screenplay for "Star Trek IV: The Voyage Home" (1986) with producer Harve Bennett.
Although Leonard Nimoy directed Meyer's co-written screenplay for "Star Trek IV," Meyer was back behind the camera for "Star Trek VI."
CBS will stream the 'Star Trek' reboot exclusively on their digital subscription platform 'CBS All Access.'