A Few Moments with Virginia Gardner

Hollywood, Ca. – June 13, 2015 (Gephardt Daily) – Virginia Gardner was born on April 18, 1995 in Sacramento, California. She began her career modeling as her "girl-next-door" good looks and professionalism made her a favorite among photographers. Virginia was able to land modeling jobs with top designers including Hollister.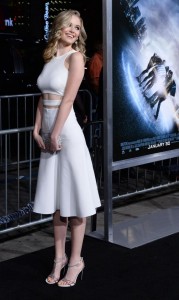 Growing up in California, Virginia performed in school and local theater productions, but her eye was always on Hollywood and working as a professional actress.
Once she had secured and agent and more and more roles were being offered, Virginia, with the help of her parents, made the permanent move to Hollywood, where she resides today.
With raves for her performance in the sci-fi film "Project Almanac," the actress is quickly becoming a "hot property," and is up for the many challenges of a professional career in acting.
Virginia told me in our satellite interview, that working with her management team she has been able to clearly set professional goals and looks for roles that will showcase her acting skills.
Look for Virginia Gardner in the upcoming film "Goat," in which she will star opposite Nick Jonas in a story about college hazing. The film, produced by James Franco, was shot primarily at Xavier University and The University of Cincinnati in Ohio. It will most likely open in theaters later this year.