A Look Behind the Scenes of "Everest" Starring Jake Gyllenhaal

July 9, 2015 (Gephardt Daily) – Although "Everest" is based on one of the worst disasters to ever occur in the Mount Everest region of Nepal, a deadly event happened when the movie was being shot on location there.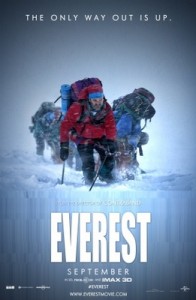 On April 18, 2014, an massive avalanche killed 16 people on the mountain, the victims were mostly Sherpas (all Nepalese) who were preparing ground work for the upcoming climbing season. The casualties were higher than the 1996 disaster in which the story of "Everest" is based on.  All in all catastrophe claimed the most lives ever taken in an Everest-related disaster.
The film stars Jake Gyllenhaal, Jason Clark, Keira Knightley and Josh Brolin. Also in the cast are Sam Worthington, Emily Watson, Robin Wright and John Hawkes. The film is directed by Baltasar Kormakur. "Everest" is rated PG-13.