HOLLYWOOD, Calif., March 22, 2016 (Gephardt Daily) — A24 has just released its summer film schedule. The films include dramas, thrillers and sci-fi themed movies.
The film company has put together casts which include Colin Farrell, Rachel Weisz, John C. Reilly, Paul Dano, Daniel Radcliffe, Mary Elizabeth Winstead, Nicholas Hoult, Kristen Stewart, Guy Pearce, Ellen Page, Evan Rachel Wood and Craig Robinson.
"THE LOBSTER"
May 13 in NY/LA May, expanding May 20 and nationwide May 27
In this highly imaginative, delightfully absurdist comedy from visionary director Yorgos Lanthimos (Dogtooth), Colin Farrell stars as David, a man who has just been dumped by his wife.  To make matters worse, David lives in a society where single people have 45 days to find true love, or else they are turned into the animal of their choice and released into the woods.  David is kept at the mysterious HOTEL while he searches for a new partner, and after several romantic misadventures decides to make a daring escape to abandon this world. He ultimately joins up with a rebel faction known as The Loners, a group founded on a complete rejection of romance. But once there David meets an enigmatic stranger (Rachel Weisz) who stirs up unexpected and strong feelings within him…
At once a full immersion into a strange and surreal world, and a witty and clever reflection of our own society, "The Lobster" is a thrillingly audacious vision fully brought to life by Lanthimos and his terrific cast.  The filmmaker displays a completely singular style and mastery of tone, finding the perfect balance between sharp-edged satire and romantic fable that entertains its audience while also leaving them with lots to reflect on long after the credits have rolled.
Directed By: Yorgos Lanthimos
Written By: Yorgos Lanthimos, Efthymis Filippou
Produced By: Ed Guiney, Lee Magiday, Ceci Dempsey, Yorgos Lanthimos
Starring: Colin Farrell, Rachel Weisz, John C. Reilly, Ben Whishaw, Lea Seydoux, Jessica Barden, Olivia Colman, Ashley Jensen, Ariane Labed, Angeliki Papoulia, Michael Smiley
Running Time: 118 minutes
Rating: R for sexual content including dialogue, and some violence.
"SWISS ARMY MAN"
June 17 in NY/LA, expansion to follow
A wholly original, enormously entertaining, and deeply heartfelt look at what it means to be human, "Swiss Army Man" is the feature film debut of acclaimed music video directors Daniel Scheinert and Daniel Kwan (collectively known as DANIELS, and responsible for the beloved "Turn Down For What" video, among many others). Bursting with limitless creativity in both form and content, "Swiss Army Man" goes from the absurd to the emotional to the whimsical to the profound and back again.
Hank (Paul Dano) is stranded on a deserted island, having given up all hope of ever making it home again. But one day everything changes when a corpse named Manny (Daniel Radcliffe) washes up on shore; the two become fast friends, and ultimately go on an epic adventure that will bring Hank back to the woman of his dreams.
"Swiss Army Man" creates a world like no other—a place of pure fantastical imagination, brimming with magical realism yet featuring two characters whose dreams and fears are entirely relatable. Dano and Radcliffe both fully commit to their directors' audacious vision, and their work is exceptional, finding the perfect balance of humor and heart that drives the whole film. A celebration of all the wonders cinema has to offer, "Swiss Army Man" is ultimately all the more remarkable for using its dazzling originality to tell a universal story of human complexity and connection.
Directed By: Daniel Kwan and Daniel Scheinert
Written By: Daniel Kwan and Daniel Scheinert
Produced By: Miranda Bailey, Lawrence Inglee, Lauren Mann, Amanda
Marshall, Eyal Rimmon
Starring: Paul Dano, Daniel Radcliffe, Mary Elizabeth Winstead
Running Time: 95 minutes
Rating: R for language and sexual material.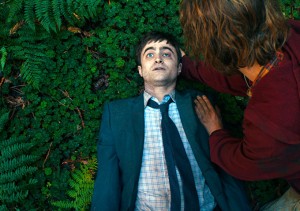 "EQUALS"
DIRECTV – May 26
Theatrical – July 1 in NY/LA, expansion to follow
In this gripping and emotional sci-fi romance from acclaimed director Drake Doremus (Like Crazy), Kristen Stewart and Nicholas Hoult play Nia and Silas, two people who work together in a futuristic society known as "The Collective." A seemingly utopian world, "The Collective" has ended crime and violence by genetically eliminating all human emotions. Despite this, Nia and Silas can't help noticing a growing attraction between them, leading them to a forbidden relationship—at first tentative, but then exploding into a passionate romance. As suspicion begins to mount among their superiors, the couple will be forced to choose between going back to the safety of the lives they have always known, or risk it all to try and pull off a daring escape.
Directed By: Drake Doremus
Written By: Nathan Parker
Produced By: Michael Schaefer, Michael Pruss, Ann Ruark, Jay Stern, Chip Diggins
Starring: Nicholas Hoult, Kristen Stewart, Guy Pearce, Jacki Weaver, Bel Powley, Kate Lyn Sheil
Running Time: 101 minutes
Rating: PG-13 for thematic content, sensuality, some partial nudity, and disturbing images
Website: http://equals-the-movie.com
"INTO THE FOREST" 
DIRECTV – June 23, 2016
Theatrical – July 23 in NY/LA, expansion to follow
Set in the near future, this riveting and suspenseful apocalyptic drama follows two sisters, Nell (Ellen Page) and Eva (Evan Rachel Wood) who live in the Pacific Northwest with their kindly father, Robert. Nell is focused on her studies and Eva is training to be a dancer, but their peaceful lives are disrupted one day by what turns out to be a continent-wide blackout. Whereas at first the family bond together and try to make the most of their difficult circumstances, as time gone on, the challenges become more serious. In the wake of a shocking and violent confrontation that Robert has with a menacing passerby, the sisters must work together in order to survive in their increasingly treacherous new world.
Directed By: Patricia Rozema
Written By: Patricia Rozema
Produced By: Niv Fichman, Aaron L. Gilbert, Ellen Page
Starring: Ellen Page, Evan Rachel Wood, Max Minghella, Callum Keith Rennie, Michael Eklund, Wendy Crewson
Running Time: 101 minutes
Rating: R for a scene of violence involving rape, language and some sexuality/nudity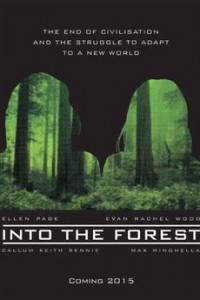 "THE BLACKCOAT'S DAUGHTER"
DIRECTV – July 14
Theatrical – TBD 2016
A deeply atmospheric and terrifying new horror film, "The Blackcoat's Daughter" centers on Kat (Kiernan Shipka) and Rose (Lucy Boynton), two girls who are left alone at their prep school Bramford over winter break when their parents mysteriously fail to pick them up. While the girls experience increasingly strange and creepy occurrences at the isolated school, we cross cut to another story—that of Joan (Emma Roberts), a troubled young woman on the road, who, for unknown reasons, is determined to get to Bramford as fast as she can. As Joan gets closer to the school, Kat becomes plagued by progressively intense and horrifying visions, with Rose doing her best to help her new friend as she slips further and further into the grasp of an unseen evil force. The movie suspensefully builds to the moment when the two stories will finally intersect, setting the stage for a shocking and unforgettable climax.
Directed By: Osgood Perkins
Written By: Osgood Perkins
Produced By: Rob Paris, Adrienne Biddle, Bryan Bertino, Robert Menzies, Alphonse Ghossein
Starring: Emma Roberts, Kiernan Shipka, Lucy Boynton, Lauren Holly, James Remar
Running Time: 93 minutes
Rating: R for brutal bloody violence and brief strong language
"MORRIS FROM AMERICA"
DIRECTV – TBD 2016
Theatrical – TBD 2016
A heartwarming and crowd-pleasing coming-of-age comedy with a unique spin, "Morris from America" centers on Morris Gentry (Markees Christmas, in an incredible breakout performance) a 13-year-old who has just relocated with his single father, Curtis (Craig Robinson) to Heidelberg, Germany. Morris, who fancies himself the next Notorious B.I.G., is a complete fish out-of-water—a budding hip-hop star in an EDM world. To complicate matters further, Morris quickly falls hard for his cool, rebellious, 15-year-old classmate Katrin. Morris sets out against all odds to take the hip-hop world by storm and win the girl of his dreams.
Written and directed by acclaimed up-and-coming filmmaker Chad Hartigan (This is Martin Bonner), Morris from America won two prizes at this year's Sundance Film Festival, the Waldo Salt Screening Award and a Special Jury Award for Robinson, who has been receiving tremendous praise for his touching and nuanced performance in his first serious role. Poignant and funny in equal measure, "Morris from America" is a delightfully original take on growing up, following your dreams, and finding your voice.
Directed By: Chad Hartigan
Written By: Chad Hartigan
Produced By: Martin Heisler, Gabriele Simon, Adele Romanski, Sara Murphy
Starring: Craig Robinson, Markees Christmas, Lina Keller, Carla Juri
Running Time: 89 minutes
Rating: Not yet rated