NEW YORK, September 1, 2015 (Gephardt Daily) — NewFest, New York's LGBT Film and Media Arts Organization, which organizes The New York LGBT Film Festival each year, is thrilled to present the New York Premiere of director Jamie Babbit's new comedy "Addicted to Fresno" on September 2nd at 8PM at the SVA Theatre.
The film stars Judy Greer ("Jurassic World"), Natasha Lyonne ("Orange is the New Black"), Aubrey Plaza ("Parks and Recreation"), Fred Armisen ("Portlandia"), Ron Livingston ("Office Space"), Jessica St. Clair ("Playing House"), Kumail Nanjiani ("Silicon Valley"), Molly Shannon ("SNL") and Clea Duvall ("Argo").
Greer, Lyonne, and filmmakers Jamie Babbit and Karey Dornetto will all be present at the screening, Q&A and after party; special guests from "Orange is the New Black" and "Looking" are also scheduled to attend.
"Addicted to Fresno" is a raunchy comedy about two sisters stuck in dead-end jobs in Fresno, CA. Shannon (Greer) is fresh out of sex addiction rehab when her younger lesbian sister Martha (Lyonne) lands her a job as a maid at a local hotel. When Shannon jeopardizes her fresh start by accidentally killing a hotel guest after a post-rehab relapse, Martha goes to hilarious lengths to help her sister cover up the crime.
As the two sisters attempt to get rid of the body, Shannon realizes taking responsibility for her out-of-control ways might be the only chance she has to save herself and repair her relationship with Martha.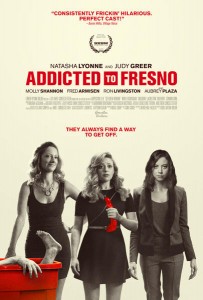 Fans of Babbit's 1999 breakthrough debut "But I'm a Cheerleader" may recall the film gave Lyonne one of her most memorable leading roles. Since that film's release, Babbit has gone on to become one of the biggest female TV directors in Hollywood, working on shows including "Girls," "Looking," "Gilmore Girls," "Pretty Little Liars" and many more.
Greer has had a landmark year and can be seen in current releases "Grandma," "Jurassic World," and "Ant-Man." Lyonne has emerged as a fan favorite on the smash hit Netflix series "Orange is the New Black," on which she plays Nicky, a sexually forward lesbian struggling with addiction issues.
The film will be released on demand this week, and in select theaters on October 2 by Gravitas Ventures.
NewFest's Executive Director Robert Kushner says, "When 'But I'm a Cheerleader' premiered at NewFest in 2000, it made instant LGBT icons out of both Jamie Babbit and Natasha Lyonne.
"We are delighted to have the chance to give NewFest's audience a chance to experience this hysterical reunion of director, star and producer, which also features some of the funniest comedic performers around in supporting roles.
"This screening will also serve as a very fun kick-off leading up to the presentation of the new and expanded NewFest which takes place October 22 – 27 at the recently renovated Bow Tie Cinemas in Chelsea, with additional programming at The LGBT Center in the West Village. We are excited to have once again partnered with Outfest to program the festival."