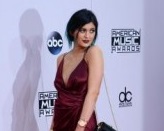 Amandla Stenberg Accuses Kylie Jenner of Cultural Appropriation
LOS ANGELES, July 13, 2015 — (UPI) — Amandla Stenberg accused Kylie Jenner of cultural appropriation Saturday on Instagram.
The 16-year-old actress, who is of African-American and Dutch heritage, called out the 17-year-old reality star, who is of Armenian, Dutch, English and Scottish descent, after Jenner shared a photo of herself with her hair in cornrows.
"When u appropriate black features and culture but fail to use ur position of power to help black Americans by directing attention towards ur wigs instead of police brutality or racism #whitegirlsdoitbetter," Stenberg commented on the picture.
Jenner responded by telling the actress to spend time with their mutual friend, Jaden Smith, writing, "@amandlastenberg Mad if I don't, Mad if I do…. Go hang w Jaden or something." Stenberg followed up by posting her thoughts about black femininity and beauty on Twitter.
"While white women are praised for altering their bodies, plumping their lips and tanning their skin, black women are shamed although the same features exist on them naturally," she wrote. "This double standard is one string in the netting that surrounds black female sexuality."