September 23, 2015 (Gephardt Daily) — Baseball fans are saddened by the passing of one of the true great gentlemen of the game. Baseball Hall of Fame recipient, Yogi Berra has passed away.
Berra died Tuesday night at age 90.
The announcement came early Wednesday morning through the Yogi Berra Museum's Twitter account.
Few names in sports were as well known as Berra's, who earned his reputation along side of baseball heroes like George Herman 'Babe' Ruth, Casey Stengel, Joe Jackson and 'Joltin' Joe DiMaggio.
According to The Baseball Reference Website, Berra was an extraordinary catcher and batter with 10 World Series rings, three American League MVP Awards that bear his name (1951, '54 and '55) and the slew of World Series records he holds (most games, at-bats, hits, singles, doubles and games caught) are a testament to his talent as a player.
People tend to know that Berra won three MVP awards, but may not know that in the seven-year period from 1950-1956, he was always in the top four in the voting. He was on the All-Star team in 15 of his 19 major league seasons.
His offensive numbers are good, but what makes him legendary is the combination of excellent offense and great defense.
Yogi was a hitter in the Al Kaline tradition; while he had decent power, and usually hit 20-30 home runs, he also had a good batting average to go with the power. His best was .322 in 1950, a year when the American League as a whole hit .271.
Recently, due to his military service and his commitment to education, a petition seeking to have the Obama administration bestow the Presidential Medal of Freedom on Berra was posted on the White House's official website on May 11, 2015.
The petition states: "A man of unimpeachable integrity and respect, he befriended the first black and Latino baseball players in Major League Baseball. He is currently an ambassador for Athlete Ally, which promotes LGBT rights in sports. Berra enlisted in the U. S. Navy during World War Il and served during the D-Day invasion.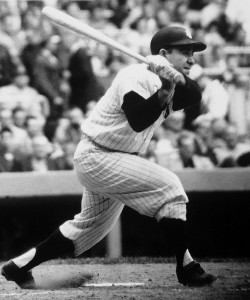 "He continues to be an avid supporter of our armed forces. Berra greatly values education. While with the Yankees, he created a scholarship at Columbia University that is still active 50 years later. His namesake Museum & Learning Center serves 20,000 students annually with character education programs and teaches the values of respect, sportsmanship and inclusion that Berra has demonstrated throughout his life and career"
Yogi Berra is survived by sons Larry, Tim and Dale, 11 grandchildren and one great-grandchild.
Yogi Berra is also remembered by his famous quotes which in many ways defined his sense of humor. Although Berra denied saying some of them, they are part of his incredible legacy.
• About a St. Louis restaurant: "No one goes there anymore. It's too crowded."
• About the effect of the sun in left field in the old Yankee Stadium during late-season games: "It gets late early out there."
• "You can observe a lot by watching."
• "If people don't want to come to the ballpark, how are you going to stop them?"
• "We made too many wrong mistakes."
• "Pie a la mode, with ice cream."
• "I wish I had an answer to that, because I'm tired of answering that question."
• "Baseball is 90% Mental and the other half physical."
• "Pair 'em up in threes."
• "If you don;t know where you're going, you'll end up someplace else."
• "It's deja vu all over again"
Check out the Yogi Berra Highlight Video below: