Bill Murray to be the Final Guest on "The Late Show with David Letterman"

NEW YORK – May 15, 2015 (UPI) — The final guest on "The Late Show with David Letterman" will be Bill Murray, CBS announced.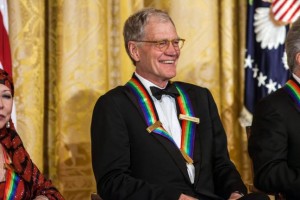 The "Ghostbusters" and "St. Vincent" star was also Letterman's first interview subject on his previous late night program in 1982. Murray is booked to appear on Tuesday's edition of "The Late Show."
Letterman is retiring Wednesday after 33 years in late-night television, 6,028 broadcasts, nearly 20,000 total guest appearances, 16 Emmy Awards and more than 4,600 career Top Ten Lists.
The last broadcast will "be an hour filled with surprises, memorable highlights, the show's final Top Ten List and more," the network promised.
Letterman's three-night finale kicks off Monday with a visit from Tom Hanks, who first appeared with the comedian on "Late Night" April 4, 1984. This will make Hanks' 60th total appearance with the host between the two programs.
Rock superstar Eddie Vedder will also give a special music performance backed by Paul Shaffer and the CBS Orchestra Monday night.
[hdplay id=248]